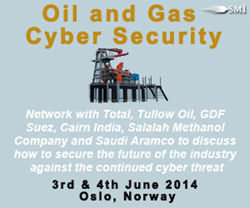 London (PRWEB UK) 5 May 2014
SMi's 4th Oil and Gas Cyber Security conference will address the most pressing cyber security issues facing the oil and gas sector with key presentations and case studies delivered by senior industry decision makers from an array of global oil and gas companies including Total, GDF Suez, Salalah Methanol Company, Tullow Oil, Cairn India and Saudi Aramco. The two-day programme will build on the success of the 2013 event by discussing recent efforts to bolster protection of highly valuable intellectual property and commercially sensitive information on production, exploration plans and assets through project updates, case studies, live demonstrations, technology sessions, panel debates and networking opportunities. To download a brochure and to see the full speaker line-up, visit http://www.smi-online.co.uk/oilandgas-cybersecurity10.asp.
Key reasons to attend SMi's 4th Oil and Gas Cyber Security conference:

Address growing local cyber security concerns: Norwegian telecoms provider Telenor has been hit by a major spear phishing campaign – Recent industry reports conclude that oil and gas companies are most at risk of being attacked, with spear phishing the most common breach suffered in 2013
Learn from other global oil and gas companies to improve your own cyber security measures with case studies from Total, GDF Suez, Tullow Oil, Salalah Methanol Company, Cairn India and Saudi Aramco
Witness two Live Demonstrations: 'Defending Networks through Simulation' led by Nuri Fattah, Director, DefenceCorp on Day Two at 13.30 and 'How to survive or avoid a DDoS attack' led by Andy Young, Senior Cyber Systems Engineer, Ixia Technologies on Day One at 10.10
Take away ideas on how to best improve your security for safer operations
Network with your peers at the evening drinks reception taking place at the British Ambassador's Residence, Oslo
Case studies at SMi's 4th Oil and Gas Cyber Security conference include:

Industrial Systems – Practical Security
Ewen MacDonald, Lead Instrument and Systems Engineer, Total
How cybersecurity is transforming security
Jacques Sibue, Group CISO, GDF Suez
If you can spot it, you can stop it – defending against new norm
Senior Representative, Tullow Oil
The cyber security indicator
Ammar Qatan, Information Technology Manager, Salalah Methanol Company
Securing the unsecured with eyes wide open
Gomeet Pant, Information Security Manager, Cairn India
Industrial Control Systems Security
Bandar Mesned Al Saifi, Data Network Engineer, Saudi Aramco
In addition to the two-day conference, networking opportunities will be extended to include two interactive workshops taking place on 5th June 2014:
A: Network monitoring and Situational Awareness for Oil and Gas OT infrastructure | Led by Dr Damiano Bolzoni, Chief Operating Officer, SecurityMatters | 08.30-12.30
B: Cyber Security Incident Handling for Oil and Gas | Led by Dr Siv Hilde Houmb, CEO and CTO, Secure-NOK AS | 13.30-17.00
Evening Drinks Reception Hosted by SMi and UK Trade & Investment on 3rd June 2014:
SMi in association with UK Trade & Investment invites you to join them for a drinks reception at The British Ambassador's residence on the evening of the first day of the conference, providing delegates further opportunity to network with industry professionals in a relaxing environment.
Visit the website for further details about the Conference, Workshops and Evening Drinks Reception: http://www.smi-online.co.uk/oilandgas-cybersecurity10.asp.
About SMi Group
Established since 1993, the SMi Group is a global event-production company that specializes in Business-to-Business Conferences, Workshops, Masterclasses and online Communities. We create and deliver events in the Defence, Security, Energy, Utilities, Finance and Pharmaceutical industries.
We pride ourselves on having access to the worlds most forward thinking opinion leaders and visionaries, allowing us to bring our communities together to Learn, Engage, Share and Network. We hold events in over 30 major cities throughout the world including London, Paris and Singapore and to date have welcomed over 200,000 participants from 80 countries. More information can be found at http://www.smi-online.co.uk.