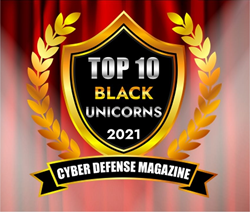 We're pleased to name these finalists and winners among a small, elite group of cybersecurity industry leaders and innovators in our third annual Black Unicorn awards
LAS VEGAS (PRWEB) August 02, 2021
CYBER DEFENSE MAGAZINE (CDM), the cybersecurity industry's leading publication and provider of daily infosec news from around the globe, today announces the winners and finalists in the Black Unicorn Awards for 2021 with 7 very important categories, this year.
The term "Black Unicorn" signifies a cybersecurity company that has the potential to reach a $1 billion dollar market value as determined by private or public investment, see https://tinyurl.com/unicorns-defined and these awards showcase those companies with this kind of incredible potential in the cybersecurity marketplace.
In addition, Cyber Defense Magazine has named winners in the Top 10 for Baby Black Unicorns, Cybersecurity Startups, Women in Cybersecurity, Cybersecurity Experts, CISOs and MSSPs this year. Inclusive in our awards, we not only have the Top 10 Women in Cybersecurity to share, we have named our annual Women in Cybersecurity scholarship program winner. One of the award winning Top 10 Women in Cybersecurity had this to say:
"It's an exciting time for young women to plan out their future careers in cybersecurity. It's a hot field with hundreds of thousands of career openings and unlimited opportunities for those who wish to make a positive impact on today's digital world," said Carolyn Crandall, Chief Security Advocate/CMO, Attivo Networks, Inc., "Kudos to this year's scholarship winner."
After reviewing dozens of well written entries from various future leaders, it was very difficult to choose a winner among the candidates, but we found one who we consider stellar. She follows in the footsteps of last year's winner Annabelle Klosterman. This year's winner is Olivia Gallucci:
Olivia A. Gallucci was named to Rochester Institute of Technology's (RIT) 2020-21 Fall and Spring Semester Dean's Lists. Gallucci is dual-majoring in Computing Security and Computer Science, and minoring in Free and Open Source Software (FOSS) and Free Culture. Gallucci finished her freshman year with a 4.0 GPA and is a member of RIT's honors program (top 3% of RIT's student body). She is treasurer of RITSEC, RIT's Cybersecurity Club, and Vice President of RIT's Women in Cybersecurity (WiCyS) Chapter. Gallucci has participated in eight cyber cybersecurity competitions, presented eight cybersecurity talks, and sails on RIT's sailing team. Gallucci has received multiple student scholarships: (ISC) 2 Women's and Undergraduates' Scholarships, RIT's $17,500 Five-Year Renewing Presidential Scholarship, and Executive Women's Forum Black Hat Scholarship. She also received a scholarship to present her research, Effectiveness of Threat Mitigation in Layers of the Open Systems Interconnection Model, at the 2021 WiCyS International Conference in Denver, Colorado.
"I am honored to be a recipient of the Cyber Defense Media Group Women in Cybersecurity scholarship. I plan to use this scholarship to continue my education in cybersecurity, computer science, and Free and Open Source Software (FOSS). This scholarship allows me to immerse myself in new research pursuits, advance my FOSS cybersecurity research, and contribute to developing open-source security initiatives at Rochester Institute of Technology like Open@RIT. I hope that my research will inspire others to pursue secure coding and contribute to FOSS," said Olivia Gallucci. Her stellar bio is here: https://www.linkedin.com/in/olivia-gallucci
"We're pleased to name these finalists and winners among a small, elite group of cybersecurity industry leaders and innovators in our third annual Black Unicorn awards," said Judges Robert R. Ackerman Jr. of http://www.allegiscyber.com, David DeWalt of http://www.nightdragon.com, Dr. Peter Stephenson of Cyber Defense Labs and Gary Miliefsky of Cyber Defense Media Group http://www.cyberdefensemediagroup.com.
Finally, in parallel to this announcement, the Black Unicorn Report for 2021 with more details about the state of the industry and future predictions is now available for free download at http://www.cyberdefenseawards.com along with the list of all the winners.
About Cyber Defense Awards
This is Cyber Defense Magazine's 9th year of honoring cybersecurity innovators, in this case the Black Unicorn Awards for 2021 on our Cyber Defense Awards platform. In this competition, judges for these prestigious awards includes cybersecurity industry veterans, trailblazers and market makers, Dr. Peter Stephenson and Gary Miliefsky of CDMG, Robert R. Ackerman Jr. of Allegis Cyber and David DeWalt of NightDragon with much appreciation to emeritus judge Robert Herjavec of Herjavec Group. To see the complete list of finalists and winners for the Black Unicorn Awards for 2021 please visit https://cyberdefenseawards.com/
About Cyber Defense Magazine
Cyber Defense Magazine was founded in 2012 by Gary S. Miliefsky, globally recognized cyber security thought leader, inventor and entrepreneur and continues to be the premier source of IT Security information. We are managed and published by and for ethical, honest, passionate information security professionals. Our mission is to share cutting-edge knowledge, real-world stories and awards on the best ideas, products and services in the information technology industry. We deliver electronic magazines every month online for free, and limited print editions exclusively for the RSA, BlackHat and Infosecurity conferences and our limited edition paid reprint subscribers. Learn more about us at http://www.cyberdefensemagazine.com. Cyber Defense Magazine is a proud member of the Cyber Defense Media Group.