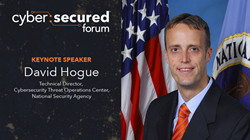 "Today more than ever, public-private partnerships are critical to ensuring the protection of our nation – securing us both physically and, increasingly, in cyberspace." – Joe Gittens, co-director of conference planning for Cyber:Secured Forum
DALLAS (PRWEB) May 28, 2019
The Security Industry Association (SIA), ISC Security Events and PSA Security Network have announced David Hogue of the National Security Agency (NSA) as one of the keynote speakers for the second annual Cyber:Secured Forum – a cybersecurity educational summit centered on how to improve and maintain the cybersecurity of integrated solutions and physical security systems. The second annual cybersecurity educational summit will be held July 29-31 in Dallas, Texas.
Hogue serves as technical director for the NSA's Cybersecurity Threat Operations Center (NCTOC) – a dynamic national-level entity defending against malicious cyber activity through integrated cybersecurity operations.
In this engaging presentation – Fostering Innovation and Public-Private Partnerships in Cyber Defense – Hogue will share principles on how the NSA is approaching cybersecurity innovation and how the security industry can partner in the overall mission. The session will highlight how the industry can develop solutions for managing gateways and cyber perimeters, hardening endpoints to meet best practices and standards, embracing comprehensive and automated threat intelligence and cultivating a culture of curiosity and innovation.
"Today more than ever, public-private partnerships are critical to ensuring the protection of our nation – securing us both physically and, increasingly, in cyberspace," said Joe Gittens, co-director of conference planning for Cyber:Secured Forum and director of standards at SIA. "We are excited to have David Hogue share insights from his experience leading the NCTOC and key takeaways for the physical security industry on emerging threats, the importance of partnership and how our nation's cyber threats can be addressed through a combination of policy, technology and people."
Cyber:Secured Forum 2019 will begin on the evening of Monday, July 29, with a welcome networking reception and continue with two days of in-depth content on cybersecurity trends and best practices related to the delivery of physical security systems and other integrated systems. Attendees will enjoy presentations featuring top cybersecurity leaders and sponsor exhibits showcasing solutions related to cybersecurity, integrated systems and physical security solutions.
Cyber:Secured Forum attendees will connect and share information on risks and liabilities, responding to cybersecurity threats and establishing security control standards across IT systems, particularly when integrating physical security solutions and devices on IT networks.
This annual summit is designed for security systems integrators, IT, Internet of Things and cybersecurity leaders, integration engineers, product developers, vendors and manufacturers, senior technology business executives, security specifiers and engineers, security consultants, top security leadership and anyone responsible for the cybersecurity of integrated security systems.
Event registrants will have access to a discounted room rate at the conference hotel – the Westin Dallas Park Central – conveniently located just north of the city's downtown district. Book your room by June 28 to receive this special rate.
To learn more about Cyber:Secured Forum and register to attend, visit cybersecuredforum.com.
About SIA
SIA (securityindustry.org) is the leading trade association for global security solution providers, with nearly 1,000 innovative member companies representing thousands of security leaders and experts who shape the future of the security industry. SIA protects and advances its members' interests by advocating pro-industry policies and legislation at the federal and state levels, creating open industry standards that enable integration, advancing industry professionalism through education and training, opening global market opportunities and collaborating with other like-minded organizations. As the premier sponsor of ISC Events expos and conferences, SIA ensures its members have access to top-level buyers and influencers, as well as unparalleled learning and network opportunities. SIA also enhances the position of its members in the security marketplace through SIA GovSummit, which brings together private industry with government decision makers, and Securing New Ground, the security industry's top executive conference for peer-to-peer networking.
About PSA Security Network
PSA Security Network is the world's largest systems integrator consortium made up of the most progressive security and audio-visual systems integrators in North America. Combined, PSA members boast over 400 branch locations, employ over 7,500 industry professionals and are responsible for over $4.5 billion annually in security, fire, life safety and pro audio-visual installations. ­PSA's mission is to empower its owners to become the most successful systems integrators in the markets they serve. PSA brings this mission to life by partnering with industry leading product and solution providers, delivering unparalleled education and training programs and by offering a variety of distinctive services that can enhance any company's operations. Learn more at psasecurity.com.
About the ISC Security Events
The ISC Security Events are owned and operated by Reed Exhibitions, the world's leading event organizer with over 500 events in over 30 countries. The ISC Security Events include ISC West, ISC East, ISC Brazil and Expo Seguridad Mexico powered by ISC, in addition to the Unmanned Security Expo New York. ISC West is the portfolio's flagship event with over 1,000 security exhibitors and brands participating, and 30,000 industry professionals in attendance. ISC West takes place annually in April at the Sands Expo in Las Vegas, Nevada; the 2019 event will be held April 9-12. Visit iscevents.com to learn more about ISC Security Events.