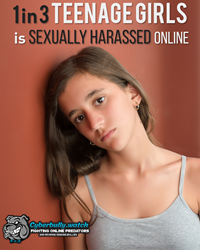 LURAY, Va. (PRWEB) August 19, 2019
- 31% of girls aged 13-17 have been targeted with unwanted online sexual attention, compared with 11% of boys.

12% of teenagers claimed they had been pressured by partners to share naked images
23% of teens surveyed knew of someone secretly taking sexual pictures of another person and sharing them online
Half report seeing revenge porn (sexual photos taken and shared without consent) - circulating online
Social media safety and sexting can be a touchy subject to discuss with students and parents. Unfortunately, it is all too common that photos initially intended for a close audience of friends can be stolen or otherwise shared online, leading to online embarrassment and emotional pain. 
 
Victimization doesn't necessarily begin with sexting; online predators are known to abuse even seemingly innocent family photos at the beach or kids on the playground.
 
The system tools at Cyberbully.watch aid investigators in tracking down online predators and revenge-seeking bullies by continuously searching the internet day and night to find abusive posts.
With over 75 million photographs of 2 million people fully digitized into our facial recognition based search engine found on public "ex-girlfriend" blogs, hacked omegle/periscope/live.me accounts, pedophile operated 'teen girl and teen boy' sites, fake social media accounts, and other random websites.
Cyberbully.watch provides parents with a free search tool to see if their child's photo has been stolen and abused online.