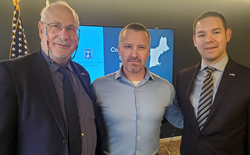 BOSTON (PRWEB) January 30, 2020
Cybereason, creators of the leading Cyber Defense Platform, recently hosted a SecureMA meeting with the Israeli Consulate of New England and staff members of various elected leaders of the New England congressional delegation. Israel Barak, Cybereason's Chief Information Security Officer, Israeli Consul General for New England Zeev Boker and Israeli Deputy Consul General Daniel Agranov headlined the meeting.
Cybereason and the Israeli Consulate of New England invited staff members from the New England congressional delegation to the gathering to discuss election security and the impact Israeli-founded companies are having on the New England economy, including employing nearly 30,000 workers throughout New England. Hundreds of Israeli-founded companies are scattered throughout New England.
Total invested capital to date for Cybereason is approximately $400 million. Cybereason has previously raised capital from CRV, Spark Capital and Lockheed Martin since its founding in 2012. Cybereason is among the fastest growing cybersecurity companies in the world, with distribution in all major global markets. Cybereason has more than 500 employees around the world and more than 600 customers.
About SecureMA
SecureMA was launched by Cybereason in 2017 and convenes periodically to empower IT professionals with free information, resources and tools to defend against cyber threats. There is no program that currently exists like SecureMA where small businesses, non-profits, local law enforcement agencies and citizens can collaborate and share information on cyber threats.
About Cybereason
Cybereason, creators of the leading Cyber Defense Platform, gives the advantage back to the defender through a completely new approach to cybersecurity. Cybereason offers endpoint prevention, detection and response and active monitoring. The solution delivers multi-layered endpoint prevention by leveraging signature and signatureless techniques to prevent known and unknown threats in conjunction with behavioral and deception techniques to prevent ransomware and fileless attacks. Cybereason is privately held and is headquartered in Boston, with offices in London, Sydney, Tel Aviv, Tokyo, Asia-Pacific and continental Europe.
Learn more: https://www.cybereason.com/
Follow us: Blog | Twitter | Facebook
Media Contact:
Bill Keeler
Senior Director, Global Public Relations
Cybereason
bill.keeler@cybereason.com
(929) 259-3261