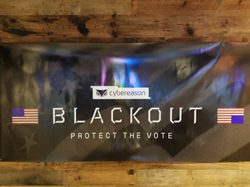 BOSTON (PRWEB) July 31, 2019
Cybereason, creators of the leading Cyber Defense Platform, recently conducted 'Operation Blackout 2020,' an Election Hacking tabletop simulation that examined advanced preparedness for the 2020 Presidential Election on Tuesday, November 3, 2020. The action took place in the fictional city of Adversaria.
Today, news coverage of election security almost exclusively focuses on foreign countries influencing how people vote. Cybereason's tabletop simulation shifted the attention to jeopardizing voting integrity on election day. Rather than stealing voter registration roles or hacking electronic voting machines, the simulation revealed less obvious, but equally effective methods, such as disrupting electricity supplies, creating gridlock on roadways to suppress votes and spreading fake news through social media.
The Red Team was comprised of Cybereason employees, white hat hackers, Boston University and Harvard University students, staff from Nichols College and private sector security professionals. The Black Team comprised a veteran group of law enforcement officials from the Department of Homeland Security, US Secret Service, Massachusetts State Police, Rhode Island State Police and Boston Police. The White Team, led by Sam Curry, Cybereason's Chief Security Officer and other staff, adjudicated the event and simulation resolution.
Cybereason conducted a similar simulation in 2018 preceding the US midterm elections. In Operation Blackout 2020, the Black Team scored a solid victory and the election integrity was preserved with no long term controversy over results.
"The hackers goal was not to manipulate or stop the vote, it was to get voters to question the validity of the system itself. This exercise showed how hackers can go beyond just hacking the polls and potentially creating long-term doubt in our nation's electoral process," said Curry.
Media coverage of the simulation included Hearst News in Washington, DC.
About Cybereason
Cybereason, creators of the leading cybersecurity data analytics platform, gives the advantage back to the defender through a completely new approach to cybersecurity. Cybereason offers endpoint detection and response (EDR), next-generation antivirus (NGAV), and active monitoring services, all powered by its proprietary data analytics platform. The Cybereason suite of products provides unmatched visibility, increases analyst efficiency and effectiveness, and reduces security risk. Cybereason is privately held, having raised $189 million from top-tier VCs, and is headquartered in Boston, with offices in London, Tel Aviv, Sydney and Tokyo.
Learn more: https://www.cybereason.com/
Follow us: Blog | Twitter | Facebook
Media Contact:
Bill Keeler
Senior Director, Global Public Relations
Cybereason
bill.keeler@cybereason.com
(929) 259-3261