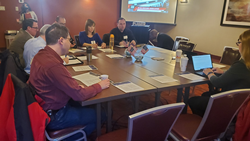 BOSTON (PRWEB) February 11, 2020
Cybereason, creators of the leading Cyber Defense Platform, together with federal officials from DHS and US Service Service and Manchester, Concord and Nashua Police Officers, recently participated in Operation Blackout New Hampshire, a simulation of an election day hack in a fictitious US city, Adversaria.
The goal of the tabletop exercise was to examine and advance the organizational responsiveness of government entities to a hacking group's attempts to undermine democratic institutions and systems of governance in the republic.
Most election hacking discussions and exercises focus on the mechanics and minutiae of hacking election equipment or contaminating and violating the integrity of voter rolls. This exercise explicitly excluded hacking election equipment from consideration to focus instead on everything else in the electoral system.
"Though the red team was able to disrupt the election, the blue team effectively used their existing capabilities across the state and federal levels to main public safety. Law enforcement officials created open lines with media sources and social media companies to limit misinformation being spread, which was crucial in ensuring the integrity of all votes," said Israel Barak, Cybereason's Chief Information Security Officer and exercise facilitator.
Actionable Insights for Law Enforcement
*Communication is Key: Use media effectively to counteract the effects of misinformation through other channels.
*Use Multiple Channels: Have several alternate means of communication. *Assume that cell phones can be compromised and social media is unreliable.
*Coordinate with major providers of infrastructure and transportation ahead of time. Understanding where things like the power grid are vulnerable can help prevent potential attacks on key utilities.
*Collaborate with Other Government Agencies: Take advantage of government resources to augment existing law enforcement and provide additional intelligence.
*Develop Playbooks: Run specific-to-your city tabletop exercises that account for existing idiosyncrasies in your community, city, and other relationships.
*Take Region Into Account: As with any good police work, understand the regional nuances and sensitivities in the community to adequately prepare for when they will be manipulated or put at odds.
About Cybereason
Cybereason, creators of the leading Cyber Defense Platform, gives the advantage back to the defender through a completely new approach to cybersecurity. Cybereason offers endpoint prevention, detection and response and active monitoring. The solution delivers multi-layered endpoint prevention by leveraging signature and signatureless techniques to prevent known and unknown threats in conjunction with behavioral and deception techniques to prevent ransomware and fileless attacks. Cybereason is privately held and is headquartered in Boston, with offices in London, Sydney, Tel Aviv, Tokyo, Asia-Pacific and continental Europe.
Learn more: https://www.cybereason.com/
Follow us: Blog | Twitter | Facebook
Media Contact:
Bill Keeler
Senior Director, Global Public Relations
Cybereason
bill.keeler@cybereason.com
(929) 259-3261