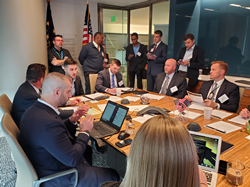 BOSTON (PRWEB) November 07, 2019
Cybereason, creators of the leading Cyber Defense Platform, and members of both federal and local law enforcement agencies came together on Tuesday, November 5, at Operation Blackout in Washington, DC. The event was hosted by Venable LLP. Operation Blackout is a simulation of a 2020 Presidential Election hack in a fictitious swing state city, Adversaria.
During the Operation Blackout simulation, Red and Blue teams faced off in a strategic duel. The Red team, led by Yonatan Striem-Amit, Cybereason's CTO and Co-founder and other hackers, were bent on disrupting voting on election day in a moderately-sized swing state city. The Blue team, led by Danielle Wood, Cybereason's Director of Advisory Services, also included the FBI, DHS, U.S. Secret Service and Arlington, VA Police.
The goal of the tabletop exercise was to examine and advance the preparedness of local and federal law enforcement agencies in the event that nation-state actors try to undermine free elections by attacking infrastructure on election day, November 3, 2020. To date, most election hacking simulations have focused on hacking voter rolls or electronic voting machines.
"Operation Blackout reinforced the fact that the line between the digital and physical world is blurred and keeps getting more so. The rate at which we have developed digital lives and seen digital touch everything is unprecedented. That means we have to practice, and get the protocols, relationships and contingencies right in peacetime for election security and public safety around them. With one year to go until the 2020 elections, what could be more important than to start exploring the possibility that democracy could be disrupted by nation-states," said Sam Curry, Cybereason's Chief Security Officer and Operation Blackout White Team Leader.
Both the Red and Blue teams performed well during the simulation. The Red team carried out a series of four moves but overall, their mission failed due to overkill. They wanted to undermine the election, but instead it was cancelled by law enforcement agencies after more than 30 citizens died and 200 were injured. The Blue team took decisive, immediate action throughout the exercise. The integrity of votes wasn't compromised, but due to public safety concerns the election was rescheduled.
"What a great day in Washington, DC running a simulation with the goals of protecting free elections. It wouldn't have been possible without the great work of the Cybereason team, Venable LLP, the FBI, DHS, U.S. Secret Service and Arlington, VA Police. Cybereason is on a mission to help train and enable federal and local law enforcement agencies to strategize and defend democracy in the leadup to the 2020 election. Globally, Cybereason is turning the tables on adversaries determined to hack critical infrastructure such as elections and cellular communications," said Roi Carmel, Cybereason's Chief Product and Marketing Officer.
About Cybereason
Cybereason, creators of the leading Cyber Defense Platform, gives the advantage back to the defender through a completely new approach to cybersecurity. Cybereason offers endpoint prevention, detection and response and active monitoring. The solution delivers multi-layered endpoint prevention by leveraging signature and signatureless techniques to prevent known and unknown threats in conjunction with behavioral and deception techniques to prevent ransomware and fileless attacks. Cybereason is privately held and is headquartered in Boston, with offices in London, Sydney, Tel Aviv, Tokyo, Asia-Pacific and continental Europe.
Learn more: https://www.cybereason.com/
Follow us: Blog | Twitter | Facebook
Media Contact:
Bill Keeler
Senior Director, Global Public Relations
Cybereason
bill.keeler@cybereason.com
(929) 259-3261