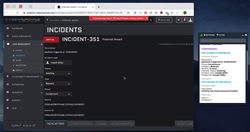 "Overworked and grounded by alert fatigue and the burden of mass information recall, the orchestration of our platforms allows for the CyberSponse SOAR platform to leverage the memory augmentation technology of Polarity, to alleviate the mental overload currently imposed upon incident responders."
ARLINGTON, Va. (PRWEB) January 29, 2019
CyberSponse, Inc., the global leader in Security Orchestration Automation and Response (SOAR) is proud to announce their integration with Polarity, the leading memory augmentation platform that excels in optimizing data awareness and recall. With the new CyberSponse-Polarity integration, you can execute and escalate security orchestration and automation playbooks right from within Polarity. Check out the integration in action!
Leveraging the memory augmentation of Polarity, analysts have increased efficiency and improved decision-making ability saving time and effort, without the need to memorize countless factors or repetitively look up information. Combining the CyberSponse security orchestration, automation and response platform, analysts have the ability to annotate and execute automated playbooks directly at the source of important information or data, without the burden of memorizing or toggling between numerous interfaces and data sources. The CyberSponse-Polarity integration enhances team collaboration and optimizes your existing toolset within the CyOPs SOAR platform.
"Integrating with Polarity is not only a game-changer for the CyOPs SOAR platform, but for minimizing the overwhelming burden SOC analysts face on a daily basis," stated Joseph Loomis, CTO and Founder of CyberSponse. "Overworked and grounded by alert fatigue and the burden of mass information recall, the orchestration of our platforms allows for the CyberSponse SOAR platform to leverage the memory augmentation technology of Polarity, to alleviate the mental overload currently imposed upon incident responders."
CyberSponse continues to develop hundreds of integrations, as the leading SOAR platform with over 250 connectors and integrations, to offer incident responders with the most robust Security Orchestration, Automation and Response (SOAR) Platform in interoperability and technological collaboration.
About Polarity
Polarity is a memory augmentation platform that excels in optimizing data awareness and recall for teams by capturing and recognizing important information and then creating relevant contextual overlays that augment the user's screen with important information in real time. For more information visit Polarity.io.
About CyberSponse
CyberSponse is the only patented automated incident response platform that fills the gap between automation-only and human dependent security organizations. The CyberSponse Operations Platform permits the automation of hundreds of security tools within incident management, case management, and analysis console for easy use and rapid deployment. For more information or to download the free enterprise Community Edition of the CyOPs SOAR platform, visit CyberSponse or follow us on Twitter.