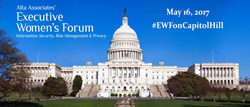 We're proud to bring some of the brightest minds and most influential women in the field together with congressional members and staff to share knowledge and best practices
Flemington, NJ (PRWEB) May 10, 2017
More than 100 executive women in cybersecurity will participate in the inaugural "EWF Cybersecurity Women on Capitol Hill Public/Private Symposium," on Tuesday, May 16, 2017. Sponsored by the Executive Women's Forum on Information Security, Risk Management & Privacy, the event will serve as a conduit between policymakers and women leaders in cybersecurity who have expertise on policy, critical infrastructure, workforce development, leadership and technology issues. The elite group of cybersecurity thought leaders will assemble in the Congressional Auditorium and Atrium for a day-long symposium dedicated to educating congressional members and staff on pressing cybersecurity issues, as well as establishing a platform for ongoing collaboration.
"For the past 15 years, the Executive Women's Forum has been dedicated to engaging, developing and advancing women leaders in cybersecurity, and we're proud to bring some of the brightest minds and most influential women in the field together with congressional members and staff to share knowledge and best practices," said Joyce Brocaglia, CEO and Founder of the EWF. "The response to our inaugural Hill event has been tremendous – a fact we attribute to being at the nexus of women, cybersecurity, diversity and workforce development."
The symposium will have bipartisan participation, including representatives from Senate Armed Services and House Homeland Security Committees. Corporate expert panelists will include Marene Allison, Chief Security Officer of Johnson & Johnson, Rhonda MacLean, CEO of MacLean Risk Partners, Wafaa Mamilli, Chief information Security Officer of Eli Lilly; Angela Messer, Executive Vice President of Booz Allen Hamilton and Lynn Terwoerds, Executive Director of the Executive Women's Forum. Thought leadership partners for the event are Alta Associates, the leading executive search firm specializing in cybersecurity, Booz Allen Hamilton and Microsoft.
"Despite increased interest in cybersecurity, the percentage of women cyber warriors has hardly moved," said Angela Messer, a Booz Allen executive vice president who leads the firm's cyber business and serves as a cyber talent development champion. "We need a social shift that encourages young women and girls to embrace cyber and other STEM skills – an initiative we've been championing through programs like STEM Girls 4 Social Good and our Women's Agenda."
The EWF Cybersecurity Women on Capitol Hill Symposium seeks to raise awareness of the substantial talent and domain expertise of EWF members so they may serve as subject matter resources when members are drafting legislation, holding hearings and otherwise developing policies that concern cybersecurity or risk management. The event will also provide an opportunity for policymakers and their staff to hear executive women's perspectives on issues pertinent to the cybersecurity of private industry and government.
"The case for gender diversity in business is well established," said Wafaa Mamilli, CISO of Eli Lilly. "Fifty percent of the world's population are women, yet in cybersecurity women represent only 11 percent of the workforce, according to a recent EWF study. I see that as both a problem and a missed opportunity; diverse thinking and perspectives improve problem solving in every field."
"As cybersecurity executives enter the C-suite and impact businesses' bottom line, the skills and perspectives that women bring to cybersecurity teams are invaluable," noted Cindy Miceli, Executive Search Director of Alta Associates. "Corporations need to ensure a diverse slate of candidates is considered for every cybersecurity hire – and that's why I'm proud that last year, Alta Associates filled 40 percent of its executive search assignments with women."
The May 16th event is by invitation only for the private sector and is open to members of Congress, their staff and the media. More information is available here.
About the Executive Women's Forum on Information Security, Risk Management & Privacy
Founded in 2002, the Executive Women's Forum on Information Security, Risk Management & Privacy (EWF) is the largest member organization dedicated to engaging, advancing and developing women leaders in Cybersecurity, IT Risk Management, Governance Risk & Compliance and Privacy. The EWF serves emerging leaders as well as the most prominent and influential women in our field by facilitating programs and events throughout the year, including a National Conference, regional meetings, leadership development and mentorship programs as well as interaction with global thought leaders through an online community. For more information, visit our website.
About Alta Associates, Inc.
Alta Associates is the most prominent executive search firm specializing in Cybersecurity and IT Risk Management. Alta, ranked one of the top 40 executive search firms in the U.S., has an unprecedented track record of placing CISOs and building world class Cybersecurity, Information Security and IT Risk organizations. Alta Associates is a certified woman owned business, with a seasoned team of specialized recruiters who have trusted relationships with the most sought after cybersecurity experts in the U.S. Most importantly, Alta is committed to providing its clients with executives representing diversity of thought. For more information, visit our website/or call 908-806-8442.
About Booz Allen Hamilton
Booz Allen Hamilton (NYSE: BAH) has been at the forefront of strategy and technology for more than 100 years. Today, the firm provides management and technology consulting and engineering services to leading Fortune 500 corporations, governments, and not-for-profits across the globe. Booz Allen partners with public and private sector clients to solve their most difficult challenges through a combination of consulting, analytics, mission operations, technology, systems delivery, cybersecurity, engineering, and innovation expertise. With international headquarters in McLean, Virginia, the firm employs approximately 22,800 people globally, and had revenue of $5.41 billion for the 12 months ended March 31, 2016. To learn more, visit the Booz Allen website.
###
CONTACTS:
Mary Wei, Member Engagement Specialist, Executive Women's Forum
Email address: mary(at)ewf-usa.com
Office: 312-525-3346
Melissa Rojas, Digital Marketing Specialist, Executive Women's Forum
Email address: melissa(at)ewf-usa.com
Office: 312-525-3347
Trish Rimo, Vice President, Raffetto Herman Strategic Communications
Office: 202-379-0825