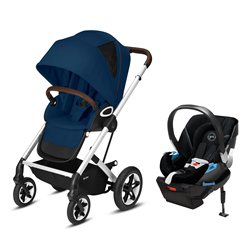 CANTON, Mass. (PRWEB) February 10, 2021
CYBEX, the globally recognized baby gear brand whose products are suited for today's urban lifestyles, has updated its Gold Line of strollers with new and innovative styles and travel systems that highlight fashion, convenience, and comfort. New additions in the brand's Gold Line include Eezy S+2, Talos S Lux, Balios S Lux, and Beezy; travel systems are available for Balios S Lux, Talos S Lux, Gazelle S and Eezy S+2. Other recently launched CYBEX Gold Line strollers include Gazelle S and Libelle.
NEW STROLLERS IN THE CYBEX GOLD LINE
CYBEX proudly debuts Eezy S+2, the newest stroller in the brand's Gold Line. The CYBEX Eezy S+2 is a compact city stroller made for family travel, featuring an easy-to-open bumper bar and large, all-terrain wheels with all-wheel suspension ensure a smooth ride on all surfaces. Suitable for infants from birth (with a CYBEX infant car seat) up to 55 lbs., the CYBEX Eezy S+2 is available in six different colors and will retail at $299.95 beginning January 2021.
Other new additions to the CYBEX Gold Line of strollers include the Balios S Lux, Talos S Lux, Beezy, Libelle, and Gazelle S, all released in Q4 2020. The CYBEX Balios S Lux features a reversible seat unit that can be positioned in forward or parent-facing mode using memory buttons, independent back and leg adjustments, and a seat that aligns with most table heights. A Nordstrom exclusive, the CYBEX Talos S Lux is an outdoor adventure stroller with puncture-proof all-terrain wheels and provides maximum comfort and protection for little ones with a large, luxurious seat and extra side protection, along with an adjustable handlebar for easy maneuvering that parents will love. The CYBEX Beezy is an ultra-compact city stroller with full-size features, making it the perfect second stroller for traveling with baby. Weighing only 18 pounds and easily foldable into a self-standing package, Beezy makes it a breeze to keep little ones comfortable on the go.
NEW TRAVEL SYSTEMS IN THE CYBEX GOLD LINE
The Balios S Lux, Talos S Lux, Gazelle S and Eezy S+2 strollers are now available as travel systems with the Aton 2 infant car seat, making it easy and convenient to transition from the car to the sidewalk. Pricing for the new travel systems are as follows: Balios S Lux & Aton 2 Travel System: $649.95; Eezy S+2 & Aton 2 Travel System: $499.95; Gazelle & Aton 2 Travel System: $879.95; and Talos S Lux & Aton 2 Travel System: $799.95. The CYBEX travel systems are now available at select retailers, with the exception of Talos which is only available at nordstrom.com.
CYBEX COT S – PREMIUM INFANT COMFORT
The new CYBEX Cot S (sold separately) features a soft foam cushion supporting a correct lying position for infants, while a canopy with mesh window offers protection from the sun's rays. The carry handle of the Cot S is placed along the sun canopy for easy carrying and attaching to a stroller frame. With an interior lining fabric that is as warm and comfortable as cotton, the Cot S is not only spacious but also offers a sheltered place for infants to rest happily.
The CYBEX Cot S is compatible with Balios S Lux, Talos S Lux and Eezy S line strollers. The Cot S is available in deep black, river blue, navy, soho grey, magnolia pink, and classic beige and retails starting at $149.95. Find more information at http://www.cybexonlineshop.com and @cybex_usa on Instagram.
###
About CYBEX
Established in 2005, the German company CYBEX is globally recognized for the iconic design, innovative technology, easy functionality, and superior safety features on all its products for stylish adults embarking on parenthood. In early 2014, CYBEX joined Goodbaby International Holding Limited. The group is one of the world's leading enterprises for the development and production of child and teen goods.