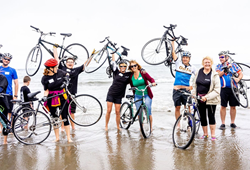 Barry demonstrated that there are no boundaries to what can be accomplished regardless of our physical limitations.
GROVELAND, Mass. (PRWEB) August 18, 2018
On Sunday, August 12, Save One Life hosted the Wheels for the World Memorial Bike Ride and Picnic in Rye, New Hampshire to honor Barry Haarde, a beloved member of the bleeding disorder community in the United States and beyond. Barry, just 52, sadly passed away on February 17, 2018—a shock and great loss to all who knew him.
An avid cyclist, Barry spent the last six years of his life raising awareness about hemophilia and funds for his favorite charity, Save One Life, by biking each year across the United States. Save One Life, based in Groveland, Massachusetts, provides direct financial assistance to more than 1600 beneficiaries with bleeding disorders in 13 developing countries through child sponsorships, scholarships, micro-enterprise grants and support to bleeding disorder camps.
Barry recognized the great disparities in care for people with bleeding disorders in developing countries. Hemophilia, the most well-known bleeding disorder, is a condition where the blood doesn't clot effectively due to a deficiency in one of 14 blood-clotting factors. When untreated, bleeds can cause extreme pain, joint deformities and even death. Of the estimated 400,000 people with hemophilia worldwide, 75% receive little to no treatment. Barry sponsored Mukesh, a boy in India, through Save One Life. But he wanted to do more. That was when he proposed a cross-country bike tour as a means to raise funds, and "Wheels for the World" was born.
In June of 2012 Barry dipped his front wheel in the Pacific and spent 50 days riding 3,667 miles through ten states and Canada to make history as the first person with hemophilia to cross the country on a bicycle. While dipping his rear wheel in the Atlantic at Wallis Sands Beach to culminate his ride, an elated Barry turned to Laurie Kelley, president of Save One Life, and declared, "Let's do this again next year!" No one expected that he would ride 16,728 more miles or, for that matter, raise over $250,000 for Save One Life.
Barry accomplished his dreams despite severe medical hardship. Barry contracted HIV in the 1980s from contaminated blood products used to treat his severe hemophilia. He contracted hepatitis C, which required four years of grueling interferon treatments, during which he almost lost his life. He also rode his bicycle with a replaced knee! Barry made the courageous choice to reveal his status in 2008, and from that time forward was a vocal advocate for the HIV and bleeding disorder communities.
About 50 friends and family came from as far as Texas, California and Colorado to join the Wheels for the World ride to the beach where Barry made history. After dipping their bicycle wheels, guests reminisced and shared stories of their hero.
Barry always rode with a stuffed bear called "DAB" attached to his bicycle seat. A bit tattered after so many tours and miles, Barry's sister, Emily Grant Cobb of Florida, presented DAB to his greatest supporter and fan, Priscilla Oren of Pennsylvania. Priscilla, also a person with hemophilia, was the first to contribute to Barry's rides every year. Early on she had told him she was "With You Every Mile," and soon "WYEM" became a code that spurred Barry on during some of his most challenging moments.
The event was generously sponsored by Shire, The Alliance Pharmacy, George King Bio-Medical, Aptevo Therapeutics and New England Hemophilia Association.
Vincent Fusaro, a person with hemophilia and president of the The Alliance Pharmacy, wrote: "Barry has been an inspiration to us. He has demonstrated that there are no boundaries to what can be accomplished regardless of our physical limitations. With our deepest respect and admiration, we are proud to have known Barry. It is our honor to celebrate everything he has done for us and the community at large."
To learn more about Save One Life and its mission to assist people with bleeding disorders, visit SaveOneLife.net.