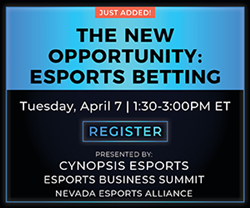 "With sports events on pause, we've seen esports step up to drive the pop culture conversation," said Chris Pursell, head of content + strategic partnerships for Cynopsis Sports/Esports. "With that comes opportunity for both industries to move quickly to entrench competition for the long haul."
NEW YORK (PRWEB) April 02, 2020
Cynopsis Esports will host the April 7 webinar, The New Opportunity: Esports Betting. Produced in partnership with the Nevada Esports Alliance and Esports Business Summit, learn how esports can affect the betting industry and its odds of long-term success.
Chris Pursell, Head of Content & Strategic Partnerships for Cynopsis Sports & Esports, will lead the discussion with speakers that include:

Blaine Graboyes, CEO - GameCo
Moritz Maurer, CEO - GRID Esports
Seth Schorr, CEO - Fifth Street Gaming
Ian Smith, Commissioner - Esports Integrity Commission
"Amid the pandemic and with sports events on pause, we've seen esports continue to step up to drive the pop culture conversation," said Chris Pursell, head of content and strategic partnerships for Cynopsis Sports and Cynopsis Esports. "With that comes opportunity for both industries to move quickly and smartly to entrench competition for the long haul."
The session will allow for real time Q&As to ensure specific questions are answered. In this webinar, you will learn:

The pros and cons of esports betting
What went into Nevada's decision to allow betting for organized CS:GO
Which titles could be next to hit the sportsbooks
What infrastructures and integrity monitoring are ensuring fair play
How working with publishers can benefit operators
Register for the Cynopsis Esports webinar, "The New Opportunity: Esports Betting."
All attendees will receive full access to speaker presentations for 1 year. Questions? Contact Cynopsis Director of Operations Trish Pihonak at trish@cynopsis.com.
About Cynopsis:
Cynopsis is what the TV industry reads first every day. The Cynopsis family of products includes the media industry's most-read daily, Cynopsis, plus sister daily Cynopsis Sports; weekly Esports, Media Tech, the Cynopsis Jobs board and special reports. Serving TV, agency and brand professionals, Cynopsis Media produces conferences, webinars, and awards programs that are second to none. Find out more at cynopsis.com.
###