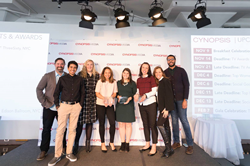 NEW YORK (PRWEB) October 04, 2019
Cynopsis has announced the finalists for its 7th Annual Model D Awards, honoring the best in online video content & advertising, as well as the newest inductees to the Digital "It List," spotlighting those execs leading the charge for digital innovation.
This year's finalists and honorees (click here for the complete list) will be recognized at an awards breakfast on Friday, November 8, from 8:30am – 10:30am at Tribeca ThreeSixty in NYC. This must-attend industry event will highlight the most outstanding digital campaign initiatives, technology and extraordinary video content in the highly competitive and ever-changing digital landscape. It has sold out quickly in previous years – reserve your seat by Monday, October 28th (click here to register).
Companies represented among the Model D Finalists include: A+E Networks, Alibi Content, Alkemy X, Assembly Media, AvatarLabs, BET, Bluprint, Boingo Wireless, Bravo Media, BuzzFeed, Comedy Central International, Crown Media Family Networks, Crunchyroll, DreamWorks Animation, Driver Studios, Turner Sports, Ellen Digital Network, First Media, FloSports, Fox Family Entertainment, Harman International, HBO, Hulu, IBM Originals, Intel / Damage, JetBlue, Jukin Media, Litton Entertainment, MTV, Mirriad, National Geographic, NBC Universal, NCAA, Newsy, The Associated Press, Nickelodeon, One Solution, NBCUniversal, pocket.watch, Rogers & Cowan, SendtoNews, Sesame Workshop, Showtime Networks, The Players' Tribune, theScore, USA Network, Verizon Media, Viacom Velocity, VH1, WarnerMedia and WWE Click here for a full list of nominated finalists and their entries.
In addition to the Model D Award finalists, the breakfast will honor this year's Digital "It List" Honorees, movers and shakers representing companies across the spectrum. Please join us in congratulating these digital trailblazers:
Portia Archer, VP, Direct-to-Consumer Services, NBC Sports Group
Sara Badler, SVP, Programmatic Revenue, DotDash
Peter Blacker, EVP, Revenue Strategy & Innovation, NBCUniversal Telemundo Enterprises
Stacy Black, Director, Digital Projects & Operations, WEtv
Jared Blitz, President, Creative Director, Blitz Creative
Sean Buckley, CRO, Spotx
Dayna Caine, Managing Director of Partnership Marketing, NASCAR
Maureen Carter, VP of Ux & Design, BET
Lynn Chealander, Director, Product Management, Xandr
Brian Dailey, SVP, Sport Digital and Content Strategy, Showtime Networks
Craig Greiwe, SVP, Rogers & Cowan
Jeremy Helfand, VP, Head of Advertising Platforms, Hulu
Travis Howe, SVP, Head of Global Operations, Disney Advertising Sales
Whitney Jones, SVP, Data & Analysis, Digitas
Barbara Karasek, CEO, Paradise
Meredith Kinsman, SVP, Digital Strategy, Octagon
Sarah LeTrent, Director, Digital Media Content, AMC Networks
Inge Maas, Senior Manager, Subscriber Engagement, EPIX
Saeyoung Montgomery, Director, Digital Experiences, Horizon Media
Liz Moothart, Senior Director, Marketing, Crunchyroll
Chad Nelson, Chief Creative Director, Topgolf
Shelley Pinsonneault, VP, Partnerships & Standards, Publicis Media
Jordan Pollak, Managing Director, Cogent
Joanna Popper, Global Head of Virtual Reality for Location Based Entertainment, HP
Katie A. Raymond, Head of Digital Marketing and Social Media – Americas, Harman
Lesley Robin, VP, Social Content & Strategy, Comedy Central
Vishal Sagar, Director of Ecommerce & Digital Marketing – Americas, Harman
Cameron Saless, Chief Business Officer, Jukin Media
Viren Tellis, VP, Product Management, Xandr
Kerry Tucker, Chief Marketing Officer, pocket.watch
Join your peers in NYC on November 8th and be a part of the fun as winners are announced, honorees are celebrated and valuable connections are made - register by October 28th!
For event or registration questions, contact Marketing Manager, Cathy Pearson at cathyp@cynopsis.com. For sponsorship information, contact Cynopsis Publisher, Robbie Caploe at rcaploe@accessintel.com. To place a congratulatory ad in the event program guide, contact Director of Operations, Trish Pihonak at trish@cynopsis.com.
About Cynopsis:
Cynopsis is what the TV industry reads first every day. The Cynopsis family of products includes the media industry's most-read daily, Cynopsis, plus sister daily Cynopsis Sports; weekly Esports, the Cynopsis Jobs board and special reports. Serving TV, agency and brand professionals, Cynopsis Media produces conferences and awards programs that are second to none. Find out more at cynopsis.com.