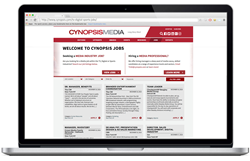 "In the last 22+ years, we've connected more than 21,000 people to their dream jobs," noted Robbie Caploe, Publisher of Cynopsis. "Our new jobs center is the culmination of listening to & learning from our loyal community to serve both individuals and companies in the most sophisticated manner."
NEW YORK (PRWEB) January 07, 2019
Cynopsis, the industry's first-read and most trusted brand, announced a new jobs resource center to benefit all professionals in television, digital, sports, esports and kids' media.
"In the last 22+ years, we've connected more than 21,000 people to their dream jobs," noted Robbie Caploe, Publisher of Cynopsis. "Our new jobs center is the culmination of listening to and learning from our loyal community to serve both individuals and companies in the most sophisticated manner possible."
The website includes:

Open positions to help job seekers pinpoint great opportunities
2018-2019 salary survey report highlighting pay and benefit trends
Opportunities for recruiters or HR professionals to find the best talent
The jobs website is not only easy to navigate on a laptop or desktop, but has also been optimized for mobile access. Plus, stay connected all day long with updates from Facebook, LinkedIn, Instagram and Twitter.
Subscribe for free to our popular bi-weekly Jobs newsletters, sent on Sunday and Wednesday mornings, delivering the most up-to-date career opportunities and advice for professionals in the television, digital, sports, esports and kids' media.
For more information about Cynopsis Jobs, please visit http://www.cynopsis.com. For advertising and sponsorship information, contact Director of Operations and Job Sales Trish Pihonak at trish(at)cynopsis.com, 203.899.8459.
ABOUT CYNOPSIS
Cynopsis is what the TV industry reads first every day. The Cynopsis family of products includes the media industry's most-read daily, Cynopsis, plus sister daily Cynopsis Sports; weekly Esports, the Cynopsis Jobs and special reports. Serving TV, agency and brand professionals, Cynopsis Media produces conferences, webinars, and awards programs that are second to none. Find out more at cynopsis.com.