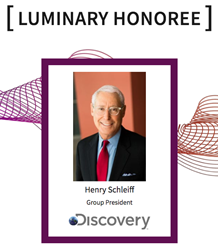 NEW YORK (PRWEB) January 11, 2019
Cynopsis is proud to announce that the third annual TV Awards Gala Luncheon will spotlight Luminary Award honoree and Discovery Group President Henry Schleiff for the incredible impact he's made in the industry.
"Henry is an industry legend, a bold, visionary brand builder and programming genius, and we can't think of anyone more deserving of this award," said Cynopsis Editorial Director, Lynn Leahey.
Under Schleiff's leadership, Investigation Discovery has become America's top true-crime network and moved from a top 40 network to the #1 network for women in ad-supported cable. Adding Travel Channel to his purview in 2018, Schleiff oversaw an immediate retooling of the network programming strategy, focusing on adventure, mysteries, history and the unknown, which resulted in the best-rated year in network history.
Prior to joining Discovery, Inc, Schleiff spearheaded turn-around stories at Hallmark Channel and Court TV.
Henry will be presented with the Cynopsis Luminary Award during the awards luncheon, taking place on Wednesday, February 6th from 11:45am - 2pm at the Yale Club in NYC (click here for event details).
The awards event will celebrate this year's breakout Rising Star honorees and the talented TV Awards finalists. Seating is limited and registration will be open until Wednesday, January 23rd so register your team today!
For registration questions, contact cathyp@cynopsis.com.
To purchase a congratulatory ad in the event program, contact trish@cynopsis.com.
For sponsorship opportunities, contact anassour@accessintel.com or mike@cynopsis.com.
About Cynopsis:
Cynopsis is what the TV industry reads first every day. The Cynopsis family of products includes the media industry's most-read daily, Cynopsis, plus sister daily Cynopsis Sports; weekly Esports, the Cynopsis Jobs Board and Special Reports. Serving TV, agency and brand professionals, Cynopsis produces conferences, webinars and awards programs that are second to none. Find out more at cynopsis.com.