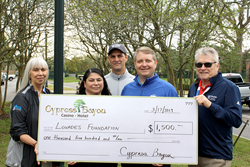 We look forward to continuing this tradition to kick off the Chitimacha Louisiana Open and giving away even more money to charity as part of our commitment to the people of Acadiana.
CHARENTON, La. (PRWEB) March 19, 2019
The Cypress Bayou Casino Hotel 5th Celebrity Hole-In-One Challenge teed off yesterday afternoon at Le Triomphe with representatives from local media outlets and local businesses taking a swing for their favorite charities. The event was part of the kickoff for the 28th Chitimacha Louisiana Open presented by Mistras. While none of the participants made the 145-yard hole-in-one to win $5,000 for the charity of his or her choice, Bryan Lee of Our Lady of Lourdes hit the shot that landed closest to the hole and won $1,500 for Lourdes Foundation.
Bryan Lee of Our Lady of Lourdes was proud to make the shot for the Lourdes Foundation. The monies donated will help the continuation of its mission to provide healthcare to those most in need.
"We appreciate the participation of our partners who came out and had fun for a good cause for this annual event. It was a little windy and cool, but the crowd was great and our local celebrity participants were really great sports and tried their best for the charity of their choice," said Richard Picard, Director of Public Relations and Advertising for Cypress Bayou Casino Hotel. "We look forward to continuing this tradition to kick off the Chitimacha Louisiana Open and giving away even more money to charity as part of our commitment to the people of Acadiana."