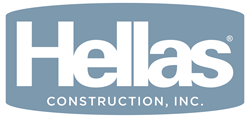 "Hellas has always been a trusted partner and we look forward to adding the Hellas Major Play turf at our four campuses," says Cy Fair AD Ray Zepeda
HOUSTON (PRWEB) April 12, 2021
Cypress Creek, Cypress Lakes, Jersey Village, and Langham Creek High Schools will see Hellas Construction all over their campuses once again this spring. Cypress Fairbanks Independent School District (Cy-Fair ISD) awarded Phase 2 of their district wide baseball/softball field renovations to Hellas on March 8th. The Cy-Fair ISD schools are installing Major Play® Matrix Helix turf for their baseball and softball fields. All four high schools currently have synthetic turf football fields and tracks installed by Hellas Construction.
Ray Zepeda, Cypress-Fairbanks Athletic Director said, "We are proud to partner with Hellas Construction for the 2nd phase of our baseball and softball turf project. Hellas has always been a trusted partner and we look forward to adding the Hellas Major Play turf at our four campuses."
The project was procured through one of Hellas' trusted cooperative partners, Sourcewell. Hellas' cooperative contracts allow K-12 schools to get projects built and installed by a proven leader in sports construction, ensuring quality and workmanship on any sports construction projects. Sourcewell helped Cy-Fair save money by combining the buying power of 50,000 government, education, and nonprofit organizations.
Ruth Hawley, Cooperative Contracts Manager said, "We are excited to once again partner with Sourcewell on a Cy-Fair ISD project. Our Sourcewell contract gives our customers the power to select the best quality products and services at a competitive pre-determined price. We look forward to continuing to provide our customers with the cooperative purchasing option to procure the sports surfacing products and services of their choice without compromising quality and workmanship."
The fields infill uses Ecotherm® infill. The cellulose fibers in Ecotherm allow the infill to absorb and slowly release water to keep the field cooler. In addition to the turf, new scoreboards, bullpen areas, dugouts, and fencing were will be added at all four schools. Construction is expected to start May 1st and will be completed in the Fall of 2021.
Tony Heath, Business Development Manager said, "It is with great honor that CFISD has entrusted Hellas with the districts' phase 2 baseball and softball turf project. Hellas has had the privilege to provide Matrix Helix to each of the 12 high schools' multi-purpose fields and two district stadiums. I am honored to be a part of this project and can't wait to watch the student's excitement playing on Hellas Major Play Turf."
Hellas Construction, which has a regional office in Spring, TX, takes a turn-key approach to athletic facilities. Hellas owns and operates its own construction and installation equipment using its own crews. The firm also manufactures its own synthetic turf, track and court surfacing materials at three factories in the United States. These investments allow Hellas to meet the timing, budget, and quality demands of its clients without reliance upon third parties.
Hellas Construction, Inc. headquartered in Austin, TX, is the largest vertically-integrated sports construction contractor in the United States, specializing in the general construction of sports facilities and sports surfaces. Hellas champions innovative artificial turf manufacturing, base construction, field, track and tennis planning, along with installation and maintenance. hellasconstruction.com
The Cypress-Fairbanks Independent School District, will maximize every student's potential through rigorous and relevant learning experiences preparing students to be 21st-century global leaders. cfisd.net