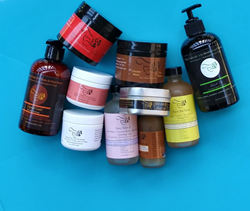 You do not need to bleach your skin to have clear, beautiful skin.
DALLAS (PRWEB) July 30, 2020
The "African Glow" is no longer a myth, thanks to Taaru Skincare's carefully crafted formulas that target hyperpigmentation, acne and discoloration, among other skin conditions. Taaru's product line delivers a range of safe, yet effective skincare products to all skin tones.
Being of African decent, Taaru founder and CEO Zaina experienced a problematic industry that had no solutions for troubled, pigmented skin. As a 20-something year-old battling hyper-pigmentation, the trip to the beauty supply store was a dreaded one, where one would leave the store frustrated due to the lack of range in product offerings that dealt with hyper-pigmented skin. Brands that dealt with skin issues that catered to melanin-rich skin were also ironically enough, the same brands that promoted skin-bleaching and the idea that in order to eliminate discoloration and hyper-pigmentation, a bleaching cream would have to be applied to reduce or halt melanin production, therefore, altering the physical appearance of the skin. But Taaru's CEO debunks that myth, saying, "I don't believe that skin color has anything to do with skin problems; people from all walks of life experience skin problems, so chemically altering someone's skin color is not the magic fix. The fix is simple, identify the source of the problem and treat it based on the person's skin type. You do not need to bleach your skin to have clear skin."
Taaru was borne from this idea that a natural skincare solution is attainable without compromising the integrity of melanin-rich skin, thus curtailing the use of skin-bleaching creams and other dangerous chemicals. Taaru, is focused on formulating products around skin type (dry vs. oily, not skin tone- light vs. dark), like fan favorites- the Baobab Sap Face Crème for oily skin and the Chocolate Mousse Masque for dry skin. Taaru is a firm believer that once you know your skin type, you are better equipped to take care of it.