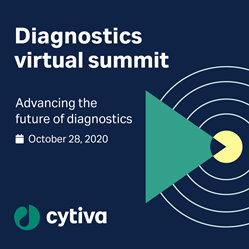 MARLBOROUGH, Mass. (PRWEB) October 15, 2020
The recent global focus on bringing diagnostic tests to market as quickly as possible has highlighted the need for close collaboration between diagnostic developers and component and material providers. Against this backdrop, Cytiva invites you to attend "Advancing the Future of Diagnostics," a timely one-day global summit being held virtually on the LabRoots platform on October 28, 2020.
The information-packed interactive event will include a program of webinars hosted by leading scientists from the University College London (UCL) and Harvard Medical School, a panel discussion from industry experts including representatives from DCN and Sona Nanotech, and insights from Cytiva's own product and application scientists.
Event tracks during the day include:

Lateral flow design considerations: When designing a new test and designing out a component in an existing test, what are the key considerations and what will be needed in the future?
Accelerating diagnostic development with custom and design services: Find out how diagnostic design services, lyophilization and custom conjugation capabilities can ultimately improve speed to market.
Collaborating for effective diagnostic development: Hear about recent collaborations that have resulted in successful test development and set a path for future development.
Simplifying your next-generation sequencing (NGS) workflow: Learn how to simplify your sequencing approaches for more detailed data, better diagnosis, and more targeted treatments now and in future.
Exploring single-cell omics opportunities: Learn about the opportunities for improving results in the growing field of single-cell omics.
Optimizing nucleic acid isolation: Find out how to optimize results, particularly for liquid biopsy and viral samples.
Emmanuel Abate, VP Genomics & Cellular Research, commented: "Advances in molecular biology, immunodiagnostics and rapid point-of-care (POC) testing are transforming diagnostics. We are delighted to present this thought-provoking and interactive virtual summit showcasing recently launched technologies and solutions to support the development of diagnostics into the future along with an engaging programme of educational webinars from our Cytiva team and our industry and research colleagues".
Produced on LabRoots' robust platform, connecting across all desktop and mobile devices, the interactive experience includes live chats with experts, presentations from over 15 speakers and an opportunity to participate in a survey gathering insights and data on the future of diagnostics.
To register for the event, click here.
If you would like to pre-schedule a 15 minute meeting with one of our Cytiva experts please click here.
Sessions will be available for on-demand viewing immediately following the live broadcast.
About Cytiva
Cytiva is a global provider of technologies and services that advance and accelerate the development and manufacture of therapeutics. Formerly part of GE Healthcare Life Sciences, we have a rich heritage tracing back hundreds of years, and a fresh beginning since 2020. Our customers undertake life-saving activities ranging from fundamental biological research to developing innovative vaccines, biologic drugs, and novel cell and gene therapies. Our job is to supply the tools and services they need to work better, faster and safer, leading to better patient outcomes.
About LabRoots
LabRoots is the leading scientific social networking website, as well as a primary source for scientific trending news, premier educational virtual events/webinars and more. Contributing to the advancement of science through content-sharing capabilities, LabRoots is a powerful advocate in amplifying global networks and communities. Founded in 2008, LabRoots emphasizes digital innovation in scientific collaboration and learning. Offering articles and webcasts that go beyond the mundane and explore the latest discoveries in the world of science, LabRoots users can stay atop their field by gaining Continuing Education Credits from a wide range of topics through their participation in the webinars and virtual events.