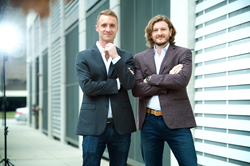 Hospitality brand to set a new quality and consistency bar for short-term rental homes
DENVER (PRWEB) May 22, 2019
D. Alexander (http://www.DAlexanderCapital.com), today announces the launch of its hospitality brand to set a new quality and consistency bar for short-term vacation rental homes. Operated like a boutique hotel delivering consistent standards, modern smart home tech and guest service applications, D. Alexander is a hospitality brand and a vertically integrated real estate fund that owns and manages a portfolio of single-family vacation homes. Its investors include some of the world's top pioneers and category creators from the residential real estate, short-term rental, and REIT industries including Colin Wiel and Doug Brien, Co-Founders of Waypoint Homes and Mynd Property Management, Austin Allison Founder of Dotloop and WineSociety, Scott Shatford Founder of AirDNA, Ivy and David Zelman Founders of Zelman and Associates, Ben Kinney of the Ben Kinney Companies, Robin Sheakley President of Sibcy Cline and Ryan Gilbert Founder of PropertyBridge and Founding Advisor to Square.
Key Highlights:

Vacation Rental Hospitality Brand to Deliver Unmatched Consistency and Quality
Real Estate Fund that Owns and Manages A Portfolio of Vacation Homes
Started by Real Estate Leaders and Backed by the World's Top Industry Pioneers and Category Creators
"Most vacation travelers can recall an instance in which their short-term rental home was inconsistent with what was advertised and their general lodging expectations. We started D. Alexander out of personal frustration, as consumers are often not getting what was advertised or feel misled." Alex Allison, Co-Founder and Managing Partner, D. Alexander continues, "We've also experienced the other side of the equation as an investor and operator who increased investment returns above market standards through professional marketing, ownership, and technology. Simply put, if you don't own the home, it's challenging to control the experience and deliver hotel-like amenities"
The alternative-lodging category is the fastest growing segment of lodging which has been fueled by the online rental marketplaces, B2B marketing and guest services tools and great tech-enabled property management companies. *According to Skift Market Report, alternative travel accommodations accounted for 8.6% of total revenues generated by the entire accommodation sector in 2018. In the United States alone, the sector revenue is expected to grow 30% in 2019 to reach nearly $30 billion-making alternative accommodations up to nearly 11% of total market. While much progress and innovation have occurred, ownership is still highly fragmented which ultimately impacts how consumers experience their vacation rental home.
"We recognized that the investment-output and returns on a single-family vacation home can swing widely based on how the external brand standards and marketing align with today's consumer expectations," said Dustin Abney, Co-Founder and Managing Partner. "While most single-family home investors look at the buying details such as purchase price, operating expenses and historical rent-roll, they often overlook how to maximize the performance of their investment. This starts with focusing on the consumer demands first – expectations, needs, and delivering that aha-moment."
The D. Alexander model is setting and defining brand standards through ownership first which allows for maximum control over the home and brand promise, enabling the company to deliver guest value in ways that traditional short-term vacation rental owners or operators cannot - the comforts of home with the amenities of a boutique hotel time and time again. For more information visit http://www.StayDAlexander.com and look out for more developments as it begins taking reservations later this year.
References: *https://research.skift.com/reports/u-s-accommodation-sector-skift-research-estimates-2019/
###
About:
D. Alexander is a vertically integrated real estate fund that owns and manages a portfolio of single-family vacation homes, operated like a boutique hotel, delivering a consistent, tech-enabled experience in every home. Backed by the world's top industry pioneers and category creators, the company is uniquely positioned to capitalize on the dislocation of today's short-term rental market by creating a new asset class through scale, technology, and a world-class brand. They do this by acquiring residential homes through a real estate investment fund with a data-driven investment approach.