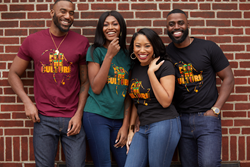 PHILADELPHIA (PRWEB) January 31, 2019
D'IYANU, African inspired ready-to-wear clothing, announces its first ever Black History Month Collection, "Rep Your Roots". Founded by Nigerian born CEO Addie Olutola, D'IYANU is on a mission to help people embrace who they are by connecting to their African roots. In a society that discredits Black culture D'IYANU's message remains true, always "Rep your roots".
What started in 1915 as a Black student organization with the purpose of studying African American history and accomplishment as a discipline, eventually led to Black History Month; nationally observed since 1976. The bold Black History Month collection features versatile African print two-piece sets, bomber jackets, and t-shirts that will guarantee to elevate your wardrobe. Rock the looks at work or to a Black History Month event to showcase pride in your heritage.
Collections & Pricing
All fabrics are ethically sourced and all products are designed in-house in the Norristown, PA office. The Rep Your Roots Collection is available for Women, Men, and Children. Sizes Small to 3XL are available for most selections.
Featured Designs
Black History Month Collection for Women
Amaka African Print Asymmetric Bodycon Dress - $89.99
Zulu African Print Asymmetric Tunic - $49.99
Safina African Print Fitted High-Waisted Pants - $49.99
Black History Month Collection for Men
Kofi Men's African Print Bomber Jacket - $99.99
Khai Men's Kente "For the Culture" Graphic T-shirt (Black) - $29.99
Ajani Men's African Print Satin Necktie and Pocket Square - $36.99
Black History Month Collection for Children
Tunji Kids African Print Melanin T-shirt- $24.99
Little Ohene Boy's African Print Prince Graphic T-Shirt - $24.99
Little Ohema Girl's African Print Princess Graphic T-Shirt - $24.99
For information please visit diyanu.com.
Press Inquiries: SMTPR at contact@smtpr.co.
Advertising/Marketing inquiries: juliette@diyanu.com