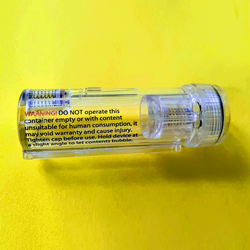 D'OXYVA® is a groundbreaking, completely painless, and noninvasive transdermal delivery system that has been shown to improve health indicators like blood pressure, tissue oxygenation, and wound healing even where standard treatments have failed, evidenced by several clinical trials.
PASADENA, Calif. (PRWEB) June 09, 2020
D'OXYVA® is a groundbreaking, completely painless, and noninvasive transdermal delivery system that has been shown to improve health indicators like blood pressure, tissue oxygenation, and wound healing even where standard treatments have failed, evidenced by several clinical trials. Water, which the D'OXYVA® system needs for proper function, is loaded inside a liquid capsule which is then inserted into the D'OXYVA® device. This water is then mixed with the FDA-approved medical grade carbon dioxide from an original D'OXYVA® cartridge, and together produces an active solution of supersaturated carbon dioxide and water vapor, which improves skin microcirculation and blood circulation after dissolving into the skin, thus improving the body's self-healing functions.
The newly developed, upgraded liquid capsules have a bigger perimeter around the thread where it connects to the D'OXYVA® device. In addition, the "Fill" level marking is now lower, which means the device only requires about half the liquids it used to in order to deliver a higher overall efficiency. Further, this improved liquid capsule can now be prefilled with a variety of active substances like vitamins, caffeine, nutrition supplements, and cannabinoid components like THC or CBD, shown to be effective as pain-relieving substances.
These prefilled "active" liquid capsules can be purchased separately and be adapted to every customer's needs and wants. The innovative proprietary patented and patent-pending D'OXYVA® technology uses a transdermal delivery route through skin pores instead of through all skin layers, which allows it to achieve a faster and more effective delivery of active components to the underlying blood vessels and the body's circulatory system. Competing skin delivery technologies try getting the active pharmaceutical ingredients through the skin layers, which often limits the molecular sizes and leads to adverse side effects, such as skin irritation and permanent tissue damage. D'OXYVA® has been reported to have no negative side effects, whereas needle delivery can be painful and cause unwanted side effects.
Furthermore, in comparison with standard of care, the efficiency and cost of D'OXYVA® are unbeatable. D'OXYVA's pioneering biotechnology provides a simple, effective route of administration that takes just 5 minutes each day. It can be applied while sitting on the sofa watching your favorite show.
For all the above reasons, Circularity Healthcare has received approval from the Western Institutional Review Board to proceed with a Phase 3 clinical study to demonstrate the safety, tolerability, and efficacy of the D'OXYVA® active non-invasive transdermal gas delivery device as an adjunctive treatment in speeding up healing of diabetic foot ulcer (DFU) wounds.
ABOUT CIRCULARITY HEALTHCARE
Circularity Healthcare, LLC, headquartered in Pasadena, California, is an emerging world leader in proprietary circulatory health and noninvasive delivery technologies, committed to helping improve life quality by developing, manufacturing, and marketing medical, pharmaceutical, and consumer health products. Circularity specializes in groundbreaking noninvasive technologies for affordable and portable transdermal delivery systems, and is pursuing regulatory approval worldwide as a way of handling cardiovascular and microcirculatory blood flow issues, as well as immune and autonomic nervous system disorders.
Forward-Looking Information
This press release may contain forward-looking information. This includes, or may be based upon, estimates, forecasts and statements as to management's expectations with respect to, among other things, the quality of the products of Circularity Healthcare, LLC, its resources, progress in development, demand, and market outlook for non-invasive transdermal delivery medical devices. Forward-looking information is based on the opinions and estimates of management at the date the information is given and is subject to a variety of risks and uncertainties that could cause actual events or results to differ materially from those initially projected. These factors include the inherent risks involved in the launch of a new medical device, innovation and market acceptance uncertainties, fluctuating components and other advanced material prices, new federal or state governmental regulations, the possibility of project cost overruns or unanticipated costs and expenses, uncertainties relating to the availability and costs of financing needed in the future and other factors. The forward-looking information contained herein is given as of the date hereof and Circularity Healthcare, LLC assumes no responsibility to update or revise such information to reflect new events or circumstances, except as required by law. Circularity Healthcare, LLC makes no representations or warranties as to the accuracy or completeness of this press release and shall have no liability for any representations (expressed or implied) for any statement made herein, or for any omission from this press release.
For more information, please visit http://www.circularityhealthcare.com or
http://www.doxyva.com. Medical experts (Rx only) can visit
http://www.doxyvaforwound.com to send general inquiries via the Contact Us page. For specific inquiries, contact Circularity Customer Care at info@doxyva.com, info@circularityhealthcare.com or by phone toll free at 1-855-5DOXYVA or at 1-626-244-8090.