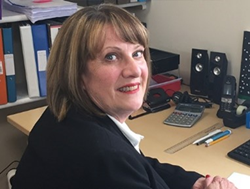 I find it Stunning!! When you walk through the front door, you are in a spacious reception area leading into the heart of the purpose-built production area where D-Tech products are manufactured.
RIO GRANDE, N.J. (PRWEB) October 07, 2020
D-Tech proudly announces Cary Cooper, an International Management and Operations specialist, has been appointed as the new CEO of library technology provider D-Tech International USA.
Company Founder Marvin Crisp will continue in his role as President, but due to increasing demands around the company's growing international presence, new CEO Cary Cooper will take over the day-to-day Management and Operations of D-Tech USA.
Marvin Crisp, D-Tech USA President, said: "D-Tech's increasing and continual growth worldwide and has made it necessary for me to dedicate myself to manage the day-to-day company's expansion into new markets. However, I knew this would only be possible if we could find the right person to take the lead in North America to continue to drive D-Tech forward into the USA and Canada.
"We're delighted to say that we've certainly found that in Cary, who will be bringing the extensive skill set and vast experience, gained in her distinguished career in the logistics industry. With this background, she will continue servicing libraries and universities across the USA and Canada using our leading range of products and the continued industry-leading aftercare and service levels."
New D-Tech USA CEO, Cary Cooper, says: "It is important to me that I manage things door to door - providing customer care and managing the process from inception to end, and this is the mentality I will always exhibit and instil in the D-Tech team."
Cary arrives at D-Tech with a vast array of experience in the logistics and operations management, having run international freight forwarding companies, with past experience working in various roles throughout the Legal, Accounting and Logistics industry, and even based in the UK where she worked alongside D-Tech's British division. Her appointment comes at an exciting time for D-Tech USA, as the company has recently completed a much-anticipated move to its new 7,000-square-foot purpose-built facility in Cape May County. She continues:
"I have been on board with D-Tech USA for two months now and am excited and driven in my position. Our US team and I are excited to work together and we've got a lot to look forward to. Be it streamlining processes, building customer rapport, developing partnerships with suppliers or adding structure to our organization, everything we do is focused on providing the excellent customer service that D-Tech is renowned for."
Cary concludes: "I've worked with D-Tech in the US and the UK, and they see things the same way as I do. I always used to say I wish I could work with D-Tech all the time! I'm really happy it worked out that way."
To find out more about D-Tech USA's range of products and services, contact us today on (609) 435-5846 or visit d-techinternational.com/us
About D-Tech
D-Tech has been delivering high performance technology solutions for public spaces for almost 20 years. Having built its initial success in the library sector, D-Tech has continually seen an increase in cross-sector demand for its range of technologies, which include self-service solutions, privacy-protecting people counting and now even app technology.
For press enquiries, please contact andrew@thewriteimpression.co.uk
Cary Cooper interview
Meet Cary Cooper, D-Tech International USA's New CEO
Hi Cary, how do you like D-Tech's new building?
I find it Stunning!! When you walk through the front door, you are in a spacious reception area leading into the heart of the purpose-built production area where D-Tech products are manufactured.
Can tell us a bit about your background and career? And how that's led you to D-Tech?
My father served in the US military so, during my upbringing, I was always aware of the importance of structure and learned to be very organized from a young age.
I started my career as an Accounts Supervisor for a 60+ attorney law firm in Nashville, Tennessee. This was my first managerial position and I was there for ten years before the early 1990s recession prompted a restructure in the firm, so I found myself looking for a new opportunity.
I found my new opportunity while I was working a temp job and saw a company across the hall called Panalpina and thought, 'What is a Panalpina? I soon found out they were an international logistics company. In my career so far everything was dotting i's and crossing t's, managing time well and working in a structured way – just like logistics – it took three attempts of gaining an interview with the Sr. Vice President and when I did get the opportunity, I secured a position as the Sr. Vice President's executive assistant. This became my first job in the international logistics industry and an International Environment.
I was with Panalpina for two years and learned a lot about delivering against targets – during my time I improved collections from 64% collected to 96% collected under 30 days and about how the shipment process in the logistics and freight forwarding industry.
In the US, the logistics industry is like jumping from the skillet to the frying pan, and I spent the following few years gaining experience in various logistics positions, including a year working in the UK, and managed to work my way up to the position of UK and Ireland Trade Lane Manager. At the start of the century, major difficulties in the airline sector had a severe knock-on effect on revenue in the logistics industry, which led again to that dreaded word restructuring. Fifty per cent of the middle and upper management staff were cut and I was out of the door again.
What was your next step?
I took this opportunity to start my own international freight forwarding company – Brit-AM LMS – working out of home in Morrow, Georgia. I have always been a risk-taker, but I don't jump blindly. I make sure everything possible is in place to give myself the best chance of success. Most people are afraid to make that jump off the ledge. But after you've done it and hit the ground a few times, you make sure there's a mattress to break your fall. Brit-AM LMS was an asset free way to do business. It's important to be proactive, not reactive. I built partnerships with vendors directly and relationships with customers – our motto was quality, customer care and partnership, which is how I like to do business. By developing a strong rapport with customers, and focusing on their needs and requirements, we enjoyed a 95% success rate and enjoyed many long-term relationships with customers. When you begin your own business, you learn to be very focused and also to wear many hats – the director's hat, the accountant's hat, the sales hat, the delivery hat, the customer relationships hat – so I'm used to seeing a business from lots of different angles.
Your career has seen you enjoy some opportunities in the UK, how did that come about?
When I met my husband, a British citizen, I relocated to the UK in 2004 and lived in Beccles, a Suffolk market town with access to Norwich, Great Yarmouth and Lowestoft. This was a huge cultural learning curve for me, personally and professionally.
The British mentality of customer service taught me to be even more organized! And to always measure twice, cut once. I learned a lot about creating and working in a structured organization and having patience, as you can only walk one step at a time before you can start to run.
I worked, for a couple of logistics companies but found that the UK industry's idea of how logistics works was quite different from my own, which I already knew was successful. I knew I had to do it for myself and started Dakini Int'l Logistics specializing specializing in imports and exports by air, ocean and road, focusing particularly on the food & beverage, manufacturing and fashion sectors.
Through my company Dakini. I began working with D-Tech (the UK head office being under an hour away in Woodbridge, Suffolk), arranging their export shipments by ocean and air to D-Tech USA and direct shipments to customers in the US and UAE.
And now you've been appointed CEO of D-Tech USA. Are you excited to get started?
It's a pleasure to be on board with D-Tech USA! I've been on board for two months and am focused on improving the structure and process flows. The Team and I are excited and preparing to move forward! It's imperative to streamline the processes and strive to run like a well-oiled machine. The core principle is building customer rapport, developing partnerships with suppliers or continually maintaining structure within our organization … everything we do is focused on providing that excellent customer service which D-Tech is notorious for.
I've built a rapport with both D-Tech USA and D-Tech UK, which has allowed me to understand the requirements of customers across two quite distinct markets and my experience of the industry on both sides of the pond has allowed me to uncover key differences in culture and demand despite a largely similar product range, which will be extremely useful in my new role with D-Tech USA.
When I first started in logistics, the company's Assistant Vice President told me something that has stuck with throughout my career – 'We must offer our customers excellent customer service. You can go anywhere in the world, deal with any international agent. We all do it differently, but the key is providing the very best front-end customer service all the way down the line. That is what the customer will remember, and why they will keep coming back to you." That attitude is D-Tech all over. I've worked with D-Tech in the US and the UK, and they have always seen things the same way as I do. Even when there are difficult situations, which occasionally we have experienced, we've always been able to work through it as a team, continued to organize shipments and get equipment delivered and installed. It is important that I manage things door to door, taking care of the customer and the process from start to finish, and this is the mentality I will always exhibit and instil in the D-Tech team.
I always used to say I wish I could work with D-Tech I'm elated it worked out that way.
Finally, can you share something that matters to you in business?
Trust is an important virtue to me … I'm realistic and straight forward. We want our customers to know that they can always trust D-Tech. From the initial inquiry to ensuring a smooth on-site installation and the final user experience for library patrons, we want to build a perfect experience for every D-Tech customer.