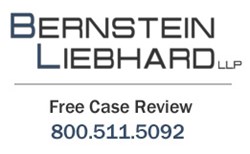 This is just the most recent study to raise questions about the purported advantages of robotic surgery. It serves to remind that the risks and benefits of these procedures still need further evaluation.
New York, New York (PRWEB) December 10, 2013
As Bernstein Liebhard LLP continues to investigate potential da Vinci robot lawsuits (http://www.davincirobotlawsuithelp.com) on behalf of robot surgery patients who were allegedly injured by the da Vinci Surgical System, the Firm notes that yet another study has raised questions about the purported benefits of robot-assisted hysterectomy. According to a report from Internal Medicine News, research presented last month at the 43rd Annual AAGL Global Congress on Minimally Invasive Gynecology looked at data from 353 women who underwent a minimally invasive hysterectomy at a single U.S. facility between 2009 and 2012. Out of that group, 116 underwent traditional laparoscopic procedures, while 237 underwent a robotic hysterectomy. The authors of the study found that the women who underwent robot- assisted hysterectomy needed significantly more postoperative pain medication than did those who had a conventional laparoscopic hysterectomy.*
"This is just the most recent study to raise questions about the purported advantages of robotic surgery. It serves to remind that the risks and benefits of these procedures still need further evaluation," says Bernstein Liebhard LLP, a nationwide law firm representing the victims of defective drugs and medical devices. The Firm is currently offering free da Vinci lawsuit consultations to patients who allegedly suffered serious robotic surgery complications in procedures involving the da Vinci Surgical System.
Da Vinci Robot Lawsuits
According to Bernstein Liebhard LLP, the publication of this new study comes as concerns over the benefits, safety and costs of robotic surgery continue to mount. In February, a study published in the Journal of the American Medical Association found little evidence that robot-assisted hysterectomy offered patients any advantages over laparoscopic methods, despite costing significantly more.** Research published in Obstetrics & Gynecology this September also found that robotic hysterectomy was not associated with reduced rates of complications than other minimally-invasive procedures, and may even double a patient's risk of developing post-operative pneumonia.***
According to an article published by Bloomberg.com last month, the U.S. Food & Drug Administration (FDA) has confirmed that reports of robotic surgery complications related to the da Vinci more than doubled over the past year, with the agency's database logging some 3,697 such reports through November 3, 2013. In 2012, it received just 1,595 reports of such incidents. The same report also noted that Intuitive Surgical is facing at least 50 da Vinci robot lawsuits, all filed on behalf of individuals who allegedly suffered serious injuries due to the da Vinci Surgical System.****
Last week, the FDA also announced a Class II da Vinci robot recall, after it was found that some instrument arms used with the device could stall, creating a risk that patients could sustain "temporary or medically reversible" injuries. According to the FDA, some 1,386 da Vinci systems worldwide could be impacted by the recall. However, Intuitive Surgical will be making repairs and replacements as needed to the affected system, rather than pulling them from the market.
Alleged victims of robotic surgery complications associated with the da Vinci Surgical System may be entitled to compensation from Intuitive Surgical. To learn more about the types of injuries that have allegedly occurred during da Vinci hysterectomy, please visit Bernstein Liebhard LLP's website, or the Firm's Facebook page: https://www.facebook.com/davincirobotlawsuit. To obtain a free review of your da Vinci lawsuit, please call 800-511-5092.
*internalmedicinenews.com/index.php?id=514&tx_ttnews[tt_news]=227777&cHash=b76d06bcf6724683a2fd04f3ee7f76ab, December 9, 2013
**jama.jamanetwork.com/article.aspx?articleid=1653522; JAMA, February 20, 2013
***bloomberg.com/news/2013-09-09/no-safety-benefit-found-in-use-of-robot-for-hysterectomy.html, Bloomberg.com, September 9, 2013
**** bloomberg.com/news/2013-11-08/intuitive-surgical-robot-incident-reports-double-in-year.html, Bloomberg.com, November 9, 2013
About Bernstein Liebhard LLP
Bernstein Liebhard LLP is a New York-based law firm exclusively representing injured persons in complex individual and class action lawsuits nationwide since 1993, including those who have been harmed by dangerous drugs, defective medical devices and consumer products. The firm has been named by The National Law Journal to the "Plaintiffs' Hot List," recognizing the top plaintiffs' firms in the country, for the past 11 consecutive years.
Bernstein Liebhard LLP
10 East 40th Street
New York, New York 10016
800-511-5092
ATTORNEY ADVERTISING. © 2013 Bernstein Liebhard LLP. The law firm responsible for this advertisement is Bernstein Liebhard LLP, 10 East 40th Street, New York, New York 10016, 800-511-5092. Prior results do not guarantee or predict a similar outcome with respect to any future matter.
Contact Information:
Felecia L. Stern, Esq.
Bernstein Liebhard LLP
info (at) consumerinjurylawyers (dot) com
http://www.davincirobotlawsuithelp.com/
https://plus.google.com/115936073311125306742?rel=author