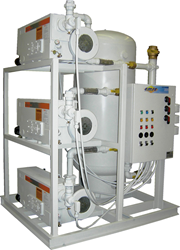 Claudio Radossi, General Manager at EMSE, adds, "The acquisition is very positive for our customers. With Daburn Electronics' support behind us, we can leverage the benefits of a larger organization to further improve our R&D, product development and customer service."
DOVER, N.J. (PRWEB) November 12, 2021
Daburn Electronics, a manufacturer of wire, cable, electronic components, power supplies, custom electronics and electrical control panels, has announced the acquisition of EMSE, a medical air and vacuum system design and manufacturing company. EMSE will now operate as a division of Daburn Electronics and will expand its design and manufacturing operations in Fairfield, New Jersey.
"EMSE has satisfied customers by delivering high-quality medical air and vacuum systems for over 30 years. Daburn's Sico Systems Control division has been an integral part of this success. This acquisition will allow EMSE and Sico Systems Control to continue to delight customers as one company," says Ed Flaherty, Daburn Electronics' President and Chief Executive Officer. "We have added staff at EMSE so that additional best-in-class products are available to customers while continuing to support fielded systems."
Claudio Radossi, General Manager at EMSE, adds, "The acquisition is very positive for our customers. With Daburn Electronics' support behind us, we can leverage the benefits of a larger organization to further improve our R&D, product development and customer service."
Joe Giulini, Operations Manager at EMSE, sees increased opportunities: "The Sico Systems Control division of Daburn has provided the brains behind our systems since EMSE was founded. Being part of one organization with additional resources will allow us to focus quickly on customer needs and develop the right products for customers going forward."
For more information, visit http://www.daburn.com and http://www.emse.com.
About Daburn Electronics
Daburn Electronics and Cable is based in Dover, N.J., and has been a manufacturer and supplier of electronic wire, cable, braid, tubing and associated products since 1964. Daburn also manufactures Polytron Power Supplies, Precise Circuits Custom Electronics and Sico Systems Control Panels. The company has grown rapidly in recent years with a commitment to product development.
About EMSE
EMSE is based in Fairfield, N.J., and has been a designer and manufacturer of high-quality medical air and vacuum systems for the healthcare industry since 1984. EMSE also supports these fielded medical air and vacuum systems with technical support, spare parts and maintenance kits.