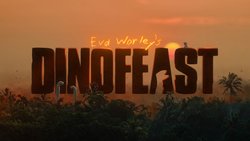 FRIEDRICHSDORF, Germany (PRWEB) October 06, 2020
Today, Maxon released "Dino Feast," the latest short film animated by Seth Worley and created using Red Giant tools and Adobe After Effects®. The film was written, directed, illustrated, and narrated by 9-year-old Eva Worley, Seth's daughter, and follows the creative and action-packed story of a jurassic struggle for resources and food to feast on. "Dino Feast" is now streaming on YouTube.
The sprawling epic follows two herds of dinosaurs, herbivores and carnivores, as they go head to head in an epic jurassic battle. Straight from the mind of Eva Worley, the film features a cameo from Emmy Award-winner Tony Hale (Toy Story 4, Veep, Arrested Development). Seth Worley, director of content at Red Giant-Maxon and co-founder of Plot Devices, oversaw and executed the technical aspects of bringing Eva's story to life, including animating her original drawings for the film.
Worley says, "It feels like we've been under stay-at-home orders for the better part of a decade and it's not always easy to fill the time, especially for kids. The awesome part about teaming up with Eva on this is that kids are unencumbered by the day-to-day stresses of adulthood, which frees up the imagination for epic stories such as this. It was an incredible experience to be able to bring her story to life and learn new skills together along the way."
Want a closer look at how the Worley's created "Dino Feast"? Check out the behind-the-scenes featurette here.
Red Giant tools used on "Dino Feast" includes:

Free Trial
Want to try out the tools for yourself? Download a free trial of Red Giant Complete, Cinema 4D and Redshift and have access to fully functioning versions of all of the tools!
Request a Maxon Review Kit
Members of the media are invited to review any tools or product suites from Maxon. For more information or to request a product review kit, please contact Alexis Isaacs at alexis@zazilmediagroup.com.
About Maxon
Maxon is a developer of professional 2D/3D digital content creation solutions. In January, Maxon and Red Giant closed a merger of the two companies. The combined company's award-winning Cinema 4D, Redshift 3D and Red Giant products have been used extensively to help create and render everything from stunning visual effects in top feature films, TV shows and commercials, cutting-edge game cinematics for AAA games, as well as for medical illustration, architectural and industrial design applications. Maxon products are available directly from the website and its worldwide distribution network. Maxon is part of the Nemetschek Group.