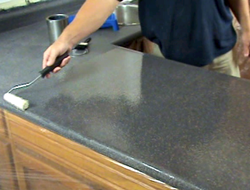 Whichever kit you choose, all the essentials are included for creating a winning home improvement project.
HAMILTON, Ontario (PRWEB) December 01, 2022
Books, blankets and board games just don't cut it as gifts for active do-it-yourselfers. With the launch of the company's new LuxROCK Solid Surface Granite Countertop Kit, Daich Coatings now has four unique project kits available for holiday gifts for home improvement enthusiasts. Kits are available for everything from countertop upgrades to walkway transformations and include all items need to complete the project.
"There's nothing ho-hum about giving a home improvement project kit this holiday season," says Peter Daich, president of Daich Coatings. "This type of gift matches up perfectly with the DIY desires of friends and families, and leaves them with new surface tops they'll enjoy for years."
Four of the most popular kits from Daich Coatings, which make for great holiday gifts, include:

"Whichever kit you choose, all the essentials are included for creating a winning home improvement project," says Daich. "We've got options that transform spaces beautifully, economically and quickly. In all cases the results are stunning and the 'I did it myself' sense of pride can't be beat. That's a holiday gift people will really appreciate!"
Daich Coatings products are available online at The Home Depot® and Lowe's®. They can also be purchased (with free shipping) directly from Daich Coatings.
###