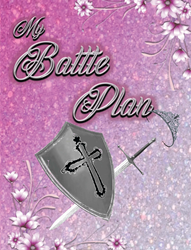 "I pray that this takes you on a journey that lifts you, comforts you, convicts you, and teaches you in the way only our Lord and Savior can. It is through the gift of His work on the cross that I was able to create this journal…my gift to you summed up simple words: a gift of discovery."
WEST MONROE, La. (PRWEB) January 15, 2020
Daily devotionals have been around for a long time to help Christians on their personal journey to spiritual growth. Usually distributed in the form of a physical book, devotionals contain a passage from the bible for the reader to read and ponder on each day. However, with the dawn of the digital age, people usually have trouble committing to a daily reading task that includes minutes of reflection unless it is more interactive and engaging.
Much like a friend and confidant during various times in a person's life—both good and bad—My Battle Plan includes spaces for readers to write down their personal wishes, and sermon notes when they attend worship, and prayer requests. "This journal is designed to be a companion. One to equip you with the armor of God by understanding yourself, God, and His love letter that is scripture through the habitual study of scripture. It is a journal to help you navigate life by understanding yourself and how scripture and God provide pivotal roles in your life."
This is what Jillian Lasecki intended for the journal, a devotional that also functions as a blog. Creative activities such as bullet journaling and calligraphy give readers a creative channel for their emotions, which effectively goes hand in hand with studying the scripture. While daily and weekly devotionals provide specific biblical verses to reflect on, the journal becomes the outlet on which readers can talk to God about how they are currently feeling and prompts them to read further into scripture for related verses advising on what the Lord says about certain situations.
"I pray that this journal does that for you. I pray that this takes you on a journey that lifts you, comforts you, convicts you, and teaches you in the way only our Lord and Savior can." Every endeavor must start with personal initiative, and with enough patience and effort by reading scripture and reflecting on them through the journal, everyone will be able to strengthen their faith. "It is through the gift of His work on the cross that I was able to create this journal. This journal is my gift to you summed up simple words: a gift of discovery."