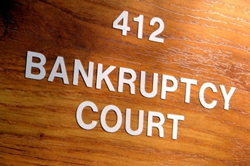 DailyDAC's BAS is updated constantly throughout the day, seven days a week and is completely free to view.
CHICAGO (PRWEB) April 09, 2020
DailyDAC, LLC is pleased to announce the launch of its Chapter 11 Bankruptcy Alert System. DailyDAC's BAS provides notice of every new Chapter 11 petition filed in the United States. It is updated constantly throughout the day, seven days a week, much more quickly than any other similar resource in existence. The Chapter 11 Bankruptcy Alert System is completely free to view and receive email notifications. Check out DailyDAC's BAS here.
DailyDAC's other services are:
Public Notice
Because of its reach to a large universe of interested purchasers, DailyDAC is the publication of choice in which to provide commercially reasonable notice for an ever-growing number of assignees, auction firms, investment bankers, law firms, secured creditors, trustees, receivers, and others who have a fiduciary or commercial duty to maximize the sale price of assets. Given that fewer people than ever are buying newspapers at newsstands right now and that many people are throwing their delivered newspapers out, the need for this service is more critical than ever. Learn how to provide public notice of your sale here, or browse past public notice here.
Opportunistic Deal Database
DailyDAC's Opportunistic Deal Database curates hard-to-find information about distressed companies, and select assets of distressed companies, that are for sale. Other assets, whose owner has an urgent need to sell, are also listed. This is a paid service, limited to 300 licenses at any given time.
Education
DailyDAC, since 2010, provides plain English educational resources about business bankruptcy, receiverships, assignments, and their alternatives targeted towards financially distressed businesses, their owners, creditors, and potential buyers, designed to help them understand enough about the landscape so they can communicate more effectively with their attorneys and other advisors. All content is created by experts for non-experts. Start learning by reading our latest articles. And if you are a corporate restructuring professional, consider applying to write for DailyDAC. There is no "pay-to-play" at DailyDAC, we simply want your thought leadership. Learn about how to contribute here.
Weekly Newsletter
DailyDAC Weekly is a free once-per-week e-newsletter with more than 10,000 subscribers that highlights DailyDAC.com's newest educational articles, its newest public notices, and teasers of the newest additions to its Opportunistic Deal Database. Subscribe here!
Webinars
DailyDAC offers webinars about the same subject matter its articles are about, through its Financial Poise Webinars unit. Browse our bankruptcy webinars or learn more about Financial Poise.
About DailyDAC LLC
DailyDAC – Distressed Analysis & Commentary / Distressed Asset Central – is the leading source of information for private equity, family offices, and other opportunistic investors; owners, board members and C-Suite executives of struggling businesses; and attorneys, accountants, investment bankers, and other trusted advisors who do not specialize in corporate restructuring and insolvency. DailyDAC's sister websites, Financial Poise and ChamberWise, provide a wealth of information about other topics for investors and business owners/executives.