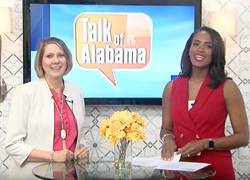 Leadership doesn't necessarily come naturally to everyone. - Nancy Covert, President, Dale Carnegie of Central and Northern Alabama
BIRMINGHAM, Ala. (PRWEB) August 17, 2018
Nancy Covert, president of Dale Carnegie Training of Central and Northern Alabama appeared on Talk of Alabama this week to talk about leadership skills and the importance of workplace learning. To that end, she announced that, in conjunction with the Birmingham Business Journal, the organization is set to deliver a new leadership development workshop to business leaders in the Birmingham, Alabama market.
Leading a team is so important for business professionals because the old adage, "people join companies and leave managers," is truer today than ever. During this workshop, leaders and managers will learn strategies to:
-Increase employee motivation levels
-Drive innovation ideas
-Develop their teams to achieve great things within their organizations
-Make their people want to stay
Business professionals will be introduced to tools they can implement to help them with:
-Understanding what drives and motivates employees
-Time management
-Delegation
-Coaching
-Giving feedback
Leadership doesn't necessarily come naturally to everyone. Often people are promoted to leadership positions because they are great at doing their jobs. Being great at doing and being great at leading are not the same. Developing leadership skills from a great doer is a tough transition. Participants will learn how to develop leaders from within their strong team. With four generations in the workplace today, it's more important than ever to have the skills necessary to help each generation grow and work together, leading to success in their respective roles.
This is the first time Dale Carnegie Training is offering this Leadership workshop in partnership with the Birmingham Business Journal. Mr. Carnegie pioneered the workplace learning industry and over the last 105 years, Dale Carnegie Training has been helping companies develop their leaders. There are approximately 9 million graduates of Dale Carnegie Training programs to date and most graduates report that their experiences were "life changing".
In addition to the leadership workshop, Dale Carnegie Training of Central and Northern Alabama also offers a 7-week program; Leadership Training for Managers. This is a more intensive program that takes a deeper dive into the ideas, tools and fundamentals that are key for being an effective leader. Managers are challenged to apply the skills learned in each session directly to their roles within their organization and are given the opportunity to practice each skill over the course of the 7-week program. During the program, managers are encouraged to make changes to their leadership styles and apply what they've learned in the workplace.
Covert reports that there are processes and skills you can learn to make the leadership transition easier. The upcoming workshop is an introduction to these and the half day event will be an action-packed, participative learning experience with a large group of like-minded business professionals. The workshop is taking place on August 23; 8:30am - 11:00 am at The Harbert Center in Birmingham, AL For more information or to register, please visit the BBJ Events Page. Dale Carnegie is the Exclusive training partner to the BBJ.
Find Dale Carnegie of Central and Northern Alabama on the web at birmingham.dalecarnegie.com To view the full Talk of Alabama segment, click here.