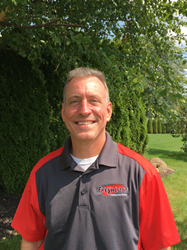 It can be challenging to find a contractor you can trust, which is what makes Fresh Coat Painters so unique. We aren't a fly-by-night company just trying to get one job – we want you to call us back next time – and that starts with providing the best in customer service. - Dale Hlad
CANTON, Ohio (PRWEB) November 17, 2020
Local resident Dale Hlad is pleased to announce the launch of his new professional painting company – Fresh Coat Painters of Canton.
Fresh Coat Painters offers residential and commercial painting services including interior and exterior painting, sealing and staining; drywall repair; pressure washing; and popcorn ceiling and wallpaper removal. Fresh Coat Painters of Canton has a 24/7 receptionist, online scheduling and free detailed quotes, and they only use high-quality materials. Fresh Coat Painters of Canton serves Canton, Massillon, Uniontown, Green, Hartville and the surrounding areas.
"Fresh Coat Painters' tagline is Painting Done Right! and I really believe in that statement. It can be challenging to find a contractor you can trust, which is what makes Fresh Coat Painters so unique. We aren't a fly-by-night company just trying to get one job – we want you to call us back next time – and that starts with providing the best in customer service," Hlad said.
As part of the company's commitment to customer service, Fresh Coat Painters offers a 3-3-3 customer service pledge, which means calls will be answered by a live person within three rings, a quote will be delivered within three days (customer schedule permitting) and the job will be started within three weeks. Fresh Coat Painters has a national product partnership with Sherwin-Williams®, so products are guaranteed to be high quality.
Hlad served in the Navy Reserves for 15 years with the Seabees, the U.S. Naval Construction Battalions. He has a background in mechanical engineering and worked as an engineering technician and production engineer, but his most recently he worked as an independent contractor for a company that does on-the-lot car repairs for local automotive dealers. As he was thinking about his next steps, he knew he wanted something that allowed him to serve the local community without sitting at a desk all day or returning to corporate America. That's what led Hlad to Fresh Coat Painters.
"Fresh Coat Painters gives me the opportunity to help people in my community love their homes while running the kind of company I'd want to hire. My painters are employees who are background checked and drug tested, we will be on time, we'll do high-quality work and we'll be respectful and professional. I want to change the experience of having your home painted through Fresh Coat Painters of Canton," Hlad said.
Fresh Coat Painters was founded in 2004 as part of Strategic Franchising Systems. Since 2015, Fresh Coat Painters has been included in the Bond's Top 100 and named to Entrepreneur Magazine's Franchise 500 list. Fresh Coat Painters is also part of the International Franchise Association, the Small Business Association's Franchise Registry, VetFran and Minority Fran. Fresh Coat Painters of Canton is bonded and insured.
For more information about Fresh Coat Painters of Canton, call (330)510-2417, email DHlad@FreshCoatPainters.com or visit http://www.FreshCoatPainters.com/Canton.