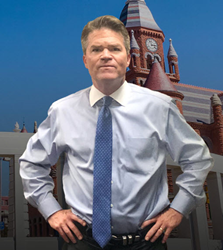 I am very honored that Super Lawyers believes in me year after year... to me, this is always an accomplishment, but beyond that, it's a signal to people who need to protect their freedom - a signal that they have someone in Dallas they can trust. I intend to live up to that
DALLAS (PRWEB) April 02, 2020
Dallas area residents continue to find a superb legal ally in criminal defense attorney David Finn. He was recently named as a Texas Super Lawyer for 2020. This is the seventeenth year in a row that Finn has received this distinction, attesting to his consistent excellence as an attorney.
Super Lawyers is a rating service for the business of law. It is operated by Thomson Reuters. Each year they publish a list of the most outstanding lawyers in each part of the United States, reviewing practitioners who cover more than 70 areas of the law. In selecting these distinguished attorneys, Super Lawyers follows a rigorous process involving 12 criteria. It gauges each attorney's professional achievements and the recognition of their peers. Lawyers so selected are deemed first-rate, both as a legal advocate for their clients and as industry professionals.
Being a Super Lawyer for seventeen years in a row is a feat few attorneys achieve. Attorney David Finn takes this as challenge to keep honing his practice.
"I am very honored that Super Lawyers believes in me year after year," Finn says. "To me, this is always an accomplishment, but beyond that, it's a signal to people who need to protect their freedom - a signal that they have someone in Dallas they can trust. I intend to live up to that."
The Super Lawyers accolade, which Finn has been receiving since 2003, is only one of many distinctions in Finn's multi-awarded 29-year career. The former federal prosecutor and elected criminal trial judge has been awarded a Special Performance Commendation by the U.S. Department of Justice, named one of the "Best Lawyers in Dallas" by D Magazine, and given the highest rating by legal review service Martindale-Hubbell.
Mr. Finn's criminal defense law firm David Finn, P.C., handles federal and state crimes including drug charges, fraud cases, DWI, immigration cases, sex crimes, and habeas corpus cases (overturning of convictions). The firm's many successful outcomes include dismissed charges, Not Guilty verdicts, and significantly reduced sentences, even in million-dollar cases.
Having successfully tried thousands of cases, Mr. Finn is considered an authoritative figure on the Texas criminal justice system and has appeared on various media outlets including The New York Times, Fox, and CBS.
While gratefully acknowledging the recognition he gets, Mr. Finn's focus remains on defending his clients. He personally handles each case.
"My clients are not just case numbers," Finn says. "It's difficult, upsetting, and nerve-racking to face a criminal charge. You want your defense lawyer to work hard to protect your rights. I relentlessly and doggedly advocate for each client at every step of the way. That's what I do. That's who I am."
About David Finn, P.C.
Based in Dallas and serving all of Texas, David Finn, P.C. is a criminal defense law firm handling federal crimes, state crimes, criminal appeals, and juvenile cases. You may reach the firm at (214) 871-1112 or at dallascriminallawyer.com.
David Finn, P.C. Criminal Lawyer Dallas DWI Attorney
2828 N Harwood St #1950
Dallas, TX 75201
(214) 871-1112