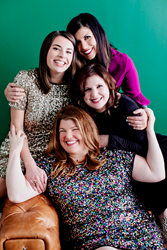 Because we all create art out of an excess of joy, we're excited to share that joy with the Dallas area through our new work
DALLAS (PRWEB) November 15, 2019
"A rising tide lifts all boats" is more than just a poignant and inspirational quote that defines the act of helping one another as a community to reach our goals. It is also the inspiration behind the title of the intentional art show, "A Rising Tide" by the ALG Collective, located in the heart of the Dallas Design District. The ALG is home to four Resident Artists who specialize in creating meaningful art that intentionally uplifts their owner. Their newest artwork is available nationwide on Instagram and their websites, accessible through http://www.algcollective.com. "A Rising Tide" Art Show, their premier fall event, will take place this Saturday, November 16, 2019, from 6 to 10 p.m. and is already highly anticipated by those in the Dallas art scene. The party promises to deliver an evening of culture, cocktails and captivating new artwork from the creatives of the all-female art studio. After Nov. 16, art-lovers will be able to enjoy the show through Dec. 19 by appointment or each Thursday during public open hours, including the monthly Third Thursday "Art Walk" where a dozen galleries along Dragon Street intentionally all stay open late together, embodying how a rising tide truly lifts all boats.
An interactive experience awaits visitors, both in person and online with the http://www.ALGCollective.com. This collaborative, multi-media art studio and sophisticated showroom debuted Spring 2019 and proudly showcases the latest works from Resident ALG Artists; Anna Curnes, Melissa Ellis, Annie Griffeth, and Christi Meril. "A Rising Tide," their latest intentionally curated show, celebrates collaboration over competition and describes the resident artists' outlook on creativity, entrepreneurship, and storytelling between themselves and the art community. The ALG artists' brilliant use of vibrant colors is expressed through a variety of mediums, including glass, palette knife oil paintings, acrylic, and ink, and will provide visitors with an uplifting visual and textural experience not to be missed.
"Because we all create art out of an excess of joy, we're excited to share that joy with the Dallas area through our new work," shared Anna Curnes, glass artist and founder of the ALG Collective. "I'm so grateful for my studio mates, the artistic sisterhood we've developed, and the stories and themes we get to explore and share here, with my hometown," said Anna.
Anna Lou Curnes, the renowned glass artist who transforms shattered fragments of glass into extraordinary works of art, has long understood the connection between the emotional highs and lows of life and the intricate nature of the artistic platform. Having begun her foray into the world of art as a means of coping with the grief that she experienced after the loss of her dear sister, it is through the medium of glass that Anna has been able to tell a visual story that transcends expectations. Having cultivated her art and brand in Chicago, IL for nearly a decade, Anna returned to her hometown of Dallas, TX to deepen the foothold of the artistic community of Dallas' Design District with The ALG Collective, located at 1302 Dragon Street, Dallas, TX 75207.
Interested attendees can register for the free "A Rising Tide" Art Show, ARisingTideALG.eventbrite.com. The studio welcomes visitors on Thursdays from 11-6 p.m. and by appointment. To request an appointment or for more information on Anna Lou Glass Collective, visit, ALGCollective.com.
ABOUT ANNA LOU GLASS COLLECTIVE
The Anna Lou Glass (ALG) Collective was founded in Spring 2019 by glass expert and artist, Anna Curnes and serves as a Fine Art Showroom and working Studio space, currently housing four of Dallas' premier visual artists. Rare in the heart of the Design District, the ALG uniquely allows you to surround yourself with both the creative process behind the art you love in this chic showroom and to interact with the artists themselves. Visitors can purchase and commission one of a kind artwork to enliven all of their favorite spaces right there in the space. A longtime dream of glass artist Anna Curnes, she created the ALG Collective to connect with and create alongside other talented artists who saw the world through their own unique, but complementary, lens. With her motto, "We're called together to create together," Anna Curnes captures the true spirit of the assembled Resident Artists who also create from an excess of joy because they simply can't create. In addition to the fused, blown, and sculpted glass artist Anna Curnes, Resident Artists also include the sculptural, palette knife oil painter Melissa Ellis; the nature-inspired, fluid acrylic and ink abstract expressionist Christi Meril; and the Hawaiian-inspired pop artist Annie Griffeth. For more information on the ALG Collective, visit, ALGCollective.com, follow us on Instagram @algcollective or stop by on Thursdays when they're open to the public.