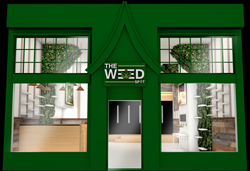 DALLAS (PRWEB) January 09, 2020
Dallas has its very own CBD and hemp coffee shop coming to town this month. The soft opening of The Weed Spot is scheduled for January 18, 2020, and is by invitation only. Members of the press, industry professionals, and other interested parties, email info@weedspot.us to request an invitation.
Optimally situated in the hip Bishop Arts District, The Weed Spot offers Dallas residents and visitors the finest hemp coffee products available, along with a wide variety of other hemp and CBD-related items. For those who are unable to visit the brick-and-mortar location, The Weed Spot also features an online marketplace for digital consumers to shop 24/7. Items can be shipped to any location within the United States. Available inventory includes bath and body items, pet products, apparel, vape pens, flower, pre-rolls, and, of course, CBD coffee. All items are personally handpicked by in-house staff and lab-tested for consistency.
The Weed Shop offers its own line of top-quality hemp and CBD products as well as carry inventory from tried-and-true brands such as Pure Kana, California Gold, Veritas Farms, Hemp Trailz, and many others.
Community Events:
The owners and staff at The Weed Spot are fully committed to acting as a positive community resource and plan to hold a number of ongoing community events. Some of the events on the horizon include pet care discussions and demonstrations Tuesday evenings. This is a night where pet parents can learn about the benefits of CBD for their furry family members. A weekly "Open Mic" night, plust a podcast on current events will also be available. The owners encourage you to reach out if you've got an idea for a community event, class, or workshop. The Weed Spot is a community-focused effort whose mission is "Empowering Life and Style, Together."
The Grand Opening:
The grand opening of The Weed Spot will happen on February 1, 2020. The general public is invited to attend the official launch event in the Bishop Arts District.
Location address is:
The Weed Spot
502 N Madison Ave