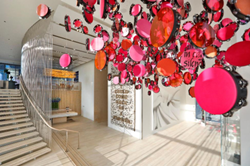 The HALL Arts Hotel is the epitome of a Dallas luxury hotel and a perfect fit for Crescent's lifestyle collection, Latitudes
DALLAS (PRWEB) February 24, 2020
The new HALL Arts Hotel, which opened its doors in the Dallas Arts District in December 2019, has joined Crescent Hotels & Resorts' Latitudes collection of lifestyle hotels & resorts. Based in Fairfax, Virginia, Crescent Hotels & Resorts is a nationally recognized operator of major hotels and resorts throughout the United States and Canada.
"The HALL Arts Hotel is the epitome of a Dallas luxury hotel and a perfect fit for Crescent's lifestyle collection, Latitudes," said Michael George, Crescent's CEO. "Crescent's award-winning operating experience in managing luxury independent lifestyle properties will help to maximize the experience at this fabulous new hotel."
With a lifestyle-driven, property-specific approach to hotel management and operations, Crescent's Latitudes portfolio encompasses exceptional hotel properties from across the U.S. Some of the collection's featured properties include The Mayfair at Coconut Grove, Newport Beachside Resort, Horseshoe Bay Resort, Aliz Hotel Times Square and the PGA National Resort & Spa.
HALL Arts Hotel is the first hotel to open in the Dallas Arts District, the country's largest contiguous arts district. Designed by HKS Architects with interiors by Bentel & Bentel, HALL Arts Hotel offers 183 contemporary guest rooms, including 19 Dallas Arts District-inspired suites, a rooftop pool, a show-stopping contemporary art collection and a state-of-the-art fitness center. ELLIE'S Restaurant + Lounge, a Crescent Culinary-activated concept, serves as the property's mainstay dining concept, serving breakfast, lunch, dinner and in-room dining with live music and entertainment five nights a week.
The hotel offers over 6,000 square feet of meeting and events space inclusive of two multi-purpose salon spaces, the HALL Arts Boardroom, a 2,500-square-foot Grand Ballroom (able to accommodate up to 250 people) and an outdoor Urban Garden. Each space is equipped with advanced technology, scenic views of the surrounding streetscapes and commissioned artwork.
For more information and to book your stay at the HALL Arts Hotel, visit http://www.hallartshotel.com or call 214-953-1717. For HALL Arts Hotel media inquiries, please contact hallartshotel@wearebreadandbutter.com.
About Crescent Hotels & Resorts
Crescent Hotels & Resorts is an award winning, nationally recognized, operator of hotels and resorts. Crescent currently operates over 100 hotels & resorts in the United States & Canada. Crescent is one of the few elite management companies approved to operate upper-upscale and luxury hotels under the brand families of Marriott, Hilton & Hyatt. Crescent also operates a collection of lifestyle independent lifestyle hotels and resorts under the Latitudes Collection umbrella. Crescent's clients include premiere REITs, private equity firms and major developers. For more information, please visit http://www.crescenthotels.com and http://www.latitudesbycrescent.com or connect with Crescent on LinkedIn.
About HALL Group
Founded in 1968, Dallas-based HALL Group is owned by founder and chairman Craig Hall and family. The diversified company is made up of several subsidiary brands, including: HALL Park, the 17-building, 162-acre office park in Frisco, Texas; HALL Arts, the three-phase, five-acre, mixed-use development in the Dallas Arts District that includes KPMG Plaza at HALL Arts, HALL Arts Hotel and HALL Arts Residences; HALL Structured Finance, the entrepreneurial, value-add direct private lender to the real estate industry; the HALL Collection, an immense collection of local and international art pieces located throughout HALL Group's properties; HALL Wines, located in St. Helena and Rutherford, producing highly-rated Bordeaux varietals; WALT Wines, producer of handcrafted Pinot Noir and Chardonnay varietals; and SENZA hotel, a Napa Valley boutique hotel and luxury resort. For more information, visit http://www.hallgroup.com.