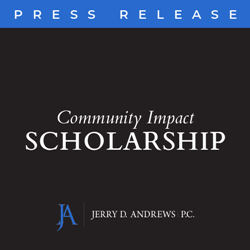 DALLAS (PRWEB) June 21, 2022
The Law Office of Jerry D. Andrews, P.C. is pleased to announce the launch of the law firm's Community Impact Scholarship program. Attorney Andrews has created the Community Impact Scholarship to support deserving college students with a demonstrated history of serving our community through volunteerism. As a longtime personal injury lawyer, Mr. Andrews understands the importance of building strong communities. Now, he is ready to give back to those who are giving back themselves.
Beginning in the fall of 2022, the firm will proudly offer two scholarships of $2,500 each to college students who have dedicated substantial time and effort to volunteer work and made a difference in their community. To qualify for the Community Impact Scholarship, students must be actively involved in volunteering to serve their community and demonstrate strong leadership skills.
Qualified students may apply by submitting either a video or an essay responding to the following prompt: "Why is it so important to volunteer within your community? Which efforts make the biggest difference within a community? How has the time you have dedicated to community service helped you to develop your own skills and grow as an individual?"
Applications from students who meet the eligibility requirements and provide all requested information will be judged based on how thoroughly and creatively they respond to the prompt in an organized manner and how well the essay or video demonstrates dedication to community service and leadership skill.
Students must submit their applications no later than August 31, 2022 to be considered.
In offering these scholarships, Attorney Andrews hopes to help future community leaders obtain the education they need to continue bettering our local community in a meaningful way.
About The Law Office of Jerry D. Andrews, P.C.
The Law Office of Jerry D. Andrews, P.C. is located in Dallas, Texas and serves clients throughout Dallas County and the surrounding area. Attorney Andrews is certified in personal injury law by the Texas Board of Legal Specialization. His commitment to recovering compensation for injured accident victims, particularly those harmed by drunk drivers, is unmatched. Through years of courtroom experience, Attorney Andrews has established a reputation as a skilled and dedicated trial lawyer.
For more information about Attorney Andrews, please visit https://www.dfwinjurylawyer.com/ or call 214-221-5800.
To apply for the Community Impact Scholarship or learn more, please visit https://www.dfwinjurylawyer.com/scholarship.