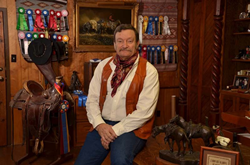 "We are proud to be a part of this national movement as we "Petal It Forward" each year says Bruce McShan.
DALLAS (PRWEB) November 20, 2019
This past October, the Dallas Police Department in partnership with McShan Florist and the Society of American Florists (SAF) joined hundreds of florists nationwide to surprise unsuspecting citizens with two free flower arrangements: One to keep and one to give to a friend, family member, colleague or even a stranger. The random-acts-of-kindness effort called "Petal It Forward" and organized by SAF, is designed to help people start their day with a smile and enjoy the positive impact flowers provide. DPD officers randomly surprised people in their beats with over a hundred arrangements and green plants on the morning of October 23rd.
"Petal It Forward" began in 2015 when "happiness ambassadors" hit the streets of Manhattan with 4,400 fresh bouquets to surprise busy commuters with two bouquets; one to keep and one to share with whomever they chose. The response was immediate and overwhelmingly successful. The campaign is now a national event with florists from every state participating while distributing thousands of mood-boosting blooms each October. "We are proud to be a part of this national movement as we "Petal It Forward" each year says Bruce McShan.
Bruce McShan, President of McShan Florist, worked the rodeo for many years before joining the family business. Busting broncos to bouquets was a big leap for Bruce but under his leadership the business continues to grow. Now into its third generation of operation, the legacy continues with 35-year-old Jodi McShan serving as vice president of the family business. She interjects the all-important millennial perspective into their ever-evolving florist operation.
McShan Florist was founded with its roots firmly planted in the Golden Rule: Do unto others as you would have them do unto you. "No matter how the floral industry changes or how technologically advanced we become," explains Bruce, "our customer-first attitude will always guide us." That personalized dedication has been rewarded over and over, including being named the Consumers' Choice Award floral winner in Dallas every year since its inception in 2006.