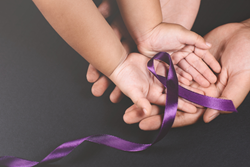 IRVING, Texas (PRWEB) November 06, 2020
Stratus, the leader in home video electroencephalogram (EEG) testing, is partnering with the Epilepsy Foundation Texas and buildings in downtown Dallas to increase epilepsy awareness in honor of National Epilepsy Awareness Month. This Friday, November 6th, Bank of America Plaza and surrounding buildings will light up purple, the color that represents epilepsy awareness.
According to the World Health Organization, epilepsy is the most common serious brain disorder worldwide with no age, race, social class, national or geographic boundaries. Epilepsy is a seizure disorder. The seizures are caused by disturbances in the electrical activity of the brain and most of the time, the cause is unknown and there is no known cure for the disorder.
Irving based Stratus initiated the support of the downtown Dallas businesses to expand awareness about epilepsy and the fight to end it. "We are committed to helping those living with these disorders," says Charlie Alvarez, CEO of Stratus. "Our commitment includes bringing high-quality, in-home video EEG testing to people across the U.S. living in both metropolitan and rural areas. Stratus' company values also include supporting the overall health and well-being of our customers. We are thankful for the support of the downtown businesses."
"We are so excited to see the Dallas buildings light up purple for National Epilepsy Awareness Month and are grateful for their support. An estimated 3.4 million people in the U.S. have been diagnosed with epilepsy and each year 150,000 more people are diagnosed. The mission of the Epilepsy Foundation is to lead the fight to overcome the challenges of living with epilepsy and to accelerate therapies to stop seizures, find cures, and save lives," says Shannon Luck, Development Coordinator at the Epilepsy Foundation Texas. "We hope to continue this tradition of lighting up Dallas for National Epilepsy Awareness Month and look forward to getting more buildings involved in the lighting."
For more information about National Epilepsy Awareness Month please visit epilepsy.com/NEAM.
For more information on how Stratus is helping people with seizures and seizure-like disorders please visit stratusneuro.com.