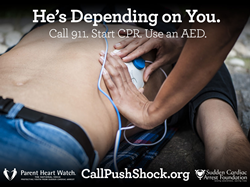 "On this special heart day, I would like to send a shout out to the automated external defibrillator. Without an AED, neither Damar nor I would be alive today,"
PITTSBURGH (PRWEB) February 16, 2023
The day Damar Hamlin died from sudden cardiac arrest during Monday night football on January 2—and then was successfully resuscitated—may herald a new era of enlightenment. The quest of the Sudden Cardiac Arrest Foundation, Parent Heart Watch, and other like-minded organizations to increase awareness of this public health crisis and the vital importance of immediate bystander CPR and defibrillation to help save lives may now begin to resonate with the public.
On the day Damar died, about 1,000 other people in the U.S. also suffered sudden cardiac death in community settings outside hospitals and only 10 percent of these victims survived. Like Damar, those who did survive received immediate CPR and treatment with a defibrillator.
The Sudden Cardiac Arrest Foundation commends all those involved with Damar's care, especially athletic trainer Denny Kellington, who provided CPR, and those who provided immediate defibrillation.
"On this special heart day, I would like to send a shout out to the automated external defibrillator. Without an AED, neither Damar nor I would be alive today," said Henry Jampel, MD, MHS, Board Chair of the Sudden Cardiac Arrest Foundation.
Sudden Cardiac Arrest Foundation, co-sponsor of the Call-Push-Shock movement, is committed to raising awareness about sudden cardiac arrest and the lifesaving actions anyone can take to help save a life. SCAF urges individuals and organizations to remember and promote this memorable mantra: In the event of sudden cardiac arrest, three steps can help save a life:
1. CALL: Call 911
2. PUSH: Start CPR (push hard and fast in the center of the chest)
3. SHOCK: Use the nearest automated external defibrillator (AED).
For more information, contact info@sca-aware.org.
ABOUT SUDDEN CARDIAC ARREST FOUNDATION
Sudden Cardiac Arrest Foundation is a national community benefit 501(c)(3) organization. Our vision is to eliminate preventable death and disability from sudden cardiac arrest (SCA) and support people affected by SCA. Our mission is to raise awareness of sudden cardiac arrest and promote initiatives that help save lives through education, research, and community. We are proud co-sponsors of the Call-Push-Shock movement and home of the Cardiac Arrest Survivor Alliance, an online community for survivors and loved ones.