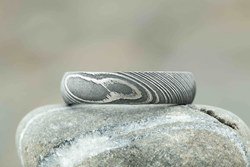 Damascus steel has been prized for centuries for it's strength, durability, and beauty.
New York, NY (PRWEB) November 16, 2016
The holidays are rounding the corner, and Carbon 6 has stepped in with additions to their bestselling collections that will help everyone shop for their men. With two new ring styles and a new finishing option on a favorite, the company is redefining style and function to become one in the same, and just in time for the merry shopping season.
The Damascus collection, currently consisting of Python and Spider Silk ring designs, has a new look to their wood grain ring, which is available in both all Damascus steel or with a sterling silver interior. Timeless and dapper, wood grain evokes nature in a lasting, metal form. The jewelry can be dressed up or down, and has been oxidized to bring out the grain effect, a striking effect on the hand—creating the perfect conversation starter at the company party.
Similarly, the new Driftwood style offers an alternative pattern immortalized in a handsome, comfortable fit. Carbon 6's Damascus steel is inspired by the metal of choice used for swords and intricate pattern making in the near east, hearkening beauty in the decoration of forged blades. A unique gift for the man who loves both the outdoors and his accessories, receiving a Carbon 6 Damascus Collection ring gives an opportunity to subtly shine amongst the holiday lights.
John Easley, Carbon 6's Designer Principal, says, "Damascus steel has been prized for centuries for it's strength, durability, and beauty. As a ring, those qualities not only make for a visually striking piece of jewelry but also a beautiful symbol for a relationship--something that stands the test of time with strength and integrity."
In addition to new styles, Carbon 6 has added a matte, satin-finish to all of their hand forged carbon fiber rings as a second finishing option, just in time for online holiday orders. Previously only available in high gloss, the new finish adds an attractive, rawness to the black, marbleized rings. The man who has everything appreciates when industry meets fashion, and carbon fiber rings are lightweight, strong, and don't conduct electricity or bend out of shape, making them a safe gift for men in all occupations.
Damascus rings ship in a natural wood box, a sleek look for any present. For further information on Carbon 6 ring collections and sizing, visit the website http://www.carbon6rings.com. Follow Carbon 6 on their Facebook, Instagram, and Youtube. For inquires regarding this release, contact Olga Gonzalez, Pietra PR, at 212-913-9761 or info(at)pietrapr(dot)com.
About Carbon 6
The ultimate in high performance men's accessories, Carbon 6 is internationally recognized for designing rings that exceed the boundaries of comfort, safety, and resistance. The brand has become a symbol for endurance and love, specializing in rings that combine cutting-edge materials to create men's accessories that are strong, safe, and beautiful.