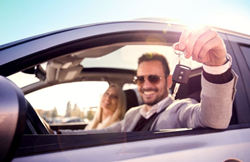 FAIRMOUNT, W.Va. (PRWEB) June 03, 2022
Automotive financing might not be as easy as it sounds for everyone. People from different walks of life have varied credit histories, which affect the approval of their loan applications. Dan Cava Toyota World, an automotive dealership in Fairmount, West Virginia, now offers pre-approval for auto loans. Interested parties can visit their official website and fill in a basic application form to get started with the process.
The finance team at Dan Cava Toyota World is well-experienced in finding the perfect auto loan for most of their customers, irrespective of their financial situation. They have tie-ups with multiple financial institutions and lenders across the country, enabling them to help their customers with online pre-approval for automotive financing. Customers have to fill in a few basic details like personal info, address info, income info, and vehicle info in the online application available on the dealership's website. Once the application is submitted, a member from Dan Cava Toyota World's finance team will reach out to the applicant to guide them through the remaining process.
Drivers are recommended to visit Dan Cava Toyota World, located at 2510 White Hall Blvd, Fairmont, West Virginia, 26554. Interested customers can also reach out to the dealership's customer care team at 304-366-2720 for any further information.