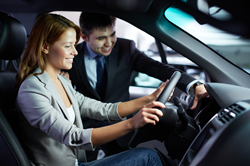 FAIRMONT, W.VA (PRWEB) May 18, 2021
Dan Cava Toyota World located in White Hall Blvd, Fairmont, West Virginia, is offering a rebate program for college graduates. Through this, the college graduates can avail rebates on their newly purchased Toyota vehicles. A sum of $500 rebate can be collected by them on all new unlicensed Toyota models when they finance or lease through a Toyota dealer or Toyota Financial Services (TFS). Rebates are valid on contracts executed from May 4 to June 1. Customers in the area are encouraged to verify their eligibility for this rebate program either online or by visiting the dealership during work hours.
This program is launched to help future and recent college graduates save money while owning a new Toyota vehicle. Students who will graduate in the next six months or who have graduated in the past two years from the date of signing the vehicle lease or the finance contract are eligible for Toyota's College Graduate Rebate Program. The customers belonging to the former category will be required to provide their college transcripts or copies of their diplomas. The customers who fall under the latter category will be required to produce proof of current employment. Eligible customers must also meet the credit approval requirements of the rebate program.
It is to be noted that the College Graduate Rebate Program is available on select new Toyota models. The Toyota Certified Used Vehicles (TCUVs) and the Scion Certified Pre-Owned Vehicles are not eligible for this program. Customers are requested to verify the same before applying for the rebate program.
Customers who are eligible for Toyota's College Graduate Rebate Program are encouraged to visit cavatoyota.com for details on the rebate program on the list of eligible schools and colleges, documents to be produced as proof of qualification and more. In case of any queries or concerns, customers can contact the dealership through the 'Contact Us' page available on the website.