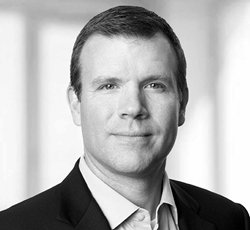 "Dan is a rare breed. His ability to lead with empathy, drive performance for our clients and be a team player has led to a different culture and growth trajectory for our organization. I couldn't be more excited to have him at the helm leading us into the future." Jeff Bloomfield, Founder/CEO
CINCINNATI (PRWEB) June 18, 2020
Dan Docherty has been named the President of Braintrust as of June 1, 2020. Dan joined Braintrust in 2018 as a consultant and coach and has been leading client engagements for the past two years.
Due in large part to Dan's vision and guidance, Braintrust has experienced tremendous growth and has moved onto the global stage with large scale engagements in the international arena.
Moving forward, Dan will be responsible for the growth of the company with a specific focus on the execution of Braintrust's core programs: NeuroMessaging™, NeuroSelling® and NeuroCoaching™. In addition to client delivery, Dan will also ensure the continued growth and development of Braintrust's internal team of coaches and facilitators.
Prior to this assignment, Dan has been in executive leadership roles in multiple industries as well as a Professor at the Miami University's Farmer School of Business. Dan recently competed his PhD in management at Case Western Reserve University with a focus on the neuroscience of coaching and high performance.
Dan's true passion is coaching and helping others achieve more impact with their lives, both personally and professionally.
Those who know Dan already know his impact on people reaches far beyond his role in corporate America. He is an "others first" human being who adds value to every person he comes in contact with.
In addition, he's an avid runner and Peloton junkie, a musician, theater fanatic and loves spending time with his wife Amy, and their three beautiful children, Abby, Drew and Kayla.
Connect with Braintrust on LinkedIn: https://www.linkedin.com/company/brain-trust-llc