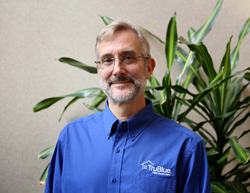 We want you to have an excellent experience with whatever work we do for you so, next time you are in need of home services, you call us again. That makes a difference. - Dan Muhling
BARRINGTON, Ill. (PRWEB) October 24, 2018
Long-time Barrington resident Dan Muhling is pleased to announce the launch of his new total house care management business, TruBlue Barrington.
TruBlue offers busy home owners one point of contact for all their home care needs including handyman services, maid and cleaning services, emergency repairs, seasonal projects, scheduled maintenance, landscape design and maintenance, a home watch program, a senior accessibility and safety program and more. TruBlue is a great option for busy families and seniors who want the comforts of their own home without worrying about property maintenance. TruBlue also works with homeowners, realtors and rental property owners who need to quickly get homes move-in ready and keep them maintained and has commercial services for business clients. TruBlue Barrington serves Barrington, Inverness, Lake Zurich, Long Grove, Libertyville, Vernon Hills, Kildeer and Buffalo Grove.
Muhling has had a varied career – he grew up on a large farm and worked as a car and heavy truck master mechanic after graduating high school. After saving up enough for college, he earned his undergraduate degree in finance and went into banking. He moved from Detroit to the Chicago area and spent the last 25 years of his career working in finance, including commercial banking, derivative structuring and sales, private equity and mezzanine investing, and served in CEO and Board of Director roles. Muhling and his wife, Sandra, have two daughters, Danielle and Sabrina.
"I retired from finance a few years ago, but I missed interacting with people, leading a team and making an impact. I started looking into multiple franchise opportunities and TruBlue struck a chord with me. I've always been handy at home and have done some renovation work, however, TruBlue allows me to expand beyond just being a handyman company to being our client's personal House Care Manager. At TruBlue, we aren't a mill trying to fill our schedule with $200 jobs that we just need to finish and move on. We are working to build relationships with our clients, which means the customer service experience is completely different. We want you to have an excellent experience with whatever work we do for you so, next time you are in need of home services, you call us again. That makes a difference," Muhling said.
To assist those with ongoing home care needs or who want to take property management off their plates entirely and spend more time doing the things they love to do, TruBlue recently rolled out House Care Plus, a monthly house care program, enabling clients to design a menu of scheduled services to maximize the value and functionality of their homes. Clients choose from a menu of services based on their individual circumstances such as scheduled replacement of sump pumps, furnace filters, water filters, smoke detector and alarm panel batteries, preventative maintenance geared toward avoiding costlier repairs down the road, seasonally appropriate inspection items, maid services, landscape design and maintenance, snow removal and more. While these services are great for anyone, they are especially helpful for seniors who want to age in place in a safe and comfortable home as well as busy families and those caring for older family members.
"Owning your own home can be a burden, especially for people who are extremely busy or who have a little trouble maintaining the home on their own. At TruBlue, we can be your total house care manager. Whether you need handyman services, room renovation, seasonal maintenance services, or landscape design and maintenance, one call does it all," Muhling said.
All TruBlue employees are licensed, bonded and insured. To learn more about TruBlue Barrington, call (312)415-2657, email DMuhling@TruBlueHouseCare.com or visit http://www.TruBlueHouseCare.com/Barrington.
About TruBlue
TruBlue provides one convenient and affordable solution for all your house care needs – inside and out. TruBlue's services include, household repairs, maid services, yard work, emergency repairs and seasonal work, all handled by a personal House Care Manager. These affordable services are available year-round and customized to meet your needs and budget. TruBlue strives to provide affordable, worry-free living for seniors and hassle-free living for busy adults with the goal of eliminating the worries, hassles and headaches of home maintenance by providing full-service, trustworthy house care services. TruBlue even offers owners financing for the larger remodeling and property projects. Watch for TruBlue to the Rescue projects which are designed to reach out to neighbors in need of volunteer assistance.