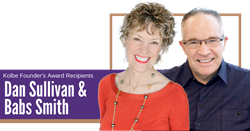 They've helped business owners be true to themselves while growing their enterprises.
PHOENIX (PRWEB) September 17, 2018
Dan Sullivan and Babs Smith, co-founders of Strategic Coach, will be this year's Kolbe Founder's Award winners, presented by Kathy Kolbe at the Conation Nation Symposium October 25, in Scottsdale, Arizona. The announcement timing comes as a surprise—no other recipient has been announced this early in the year—but their contribution to the theory of conation was no secret.
Theorist and author Kathy Kolbe met Dan and Babs in 1990 when their company was in its early growth phase. All three entrepreneurs shared a common belief; that every person has innate unique talents that can lead to extraordinary accomplishments when properly understood.
"From the beginning I knew they were deeply committed to helping business owners be true to themselves while growing their enterprises," said Kolbe. "Dan and Babs set the standard for integrity and devotion to the longevity of Kolbe Wisdom™."
In 1989 Sullivan and Smith held their first workshop in Toronto with six entrepreneur clients. In 1991 Strategic Coach expanded to the United States. Since then, their company has grown substantially with four offices around the world: Toronto, Chicago, Los Angeles, and Manchester, UK.
Strategic Coach is known as the original and most successful business coaching system and is focused on stretching the ambitions of business owners with its 10X growth model. Their program helps business owners and their teams take inventory of their own talents, or Unique Abilities. This strengths-based approach is what drew Kolbe Corp and Strategic Coach together as long-term partners focused on helping people understand and appreciate their instinctive talents.
"Kathy Kolbe is the scientist experimenter who cracked the code on natural inclinations," said Dan Sullivan. "She's the only one in the world who discovered a measurable tool that can determine how to put teams together so that everything clicks. The day I got my Kolbe result was one of the most liberating days of my life."
"It's a great honor for us," said Babs Smith. "We've gotten a lot of value using Kolbe, and we promote it to our clients to use in their businesses. We appreciate Kolbe's receptivity to our unique entrepreneurial client base."
Kolbe will present Sullivan and Smith with the Award on stage at the Conation Nation Symposium in October. As Founder's Award honorees, they will join four previous recipients of the prestigious award. In 2013, educator Bret Loucks received the Award, followed by professor and university administrator Dr. Ryan Thomas in 2015, and Kolbe Corp VP of Technology, James Trujillo in 2016. Most recently Will Rapp, President of Kolbe International, received the award in 2017.
About Conation Nation Symposium
Conation Nation Symposium will take place October 25 and 26 at the DoubleTree Resort in Scottsdale, Ariz. It is the authoritative conference on conation — the part of the mind used in action and achievement. The event will feature a variety of presentations from leaders in coaching, human resources, and personal relationships; including Dan Sullivan, Kathy Kolbe, and keynote speaker Brian Burkhardt.
For more information about Conation Nation Symposium, visit: http;//kolbe.com/cns
About Kolbe Corp
Since 1977, Kolbe Corp's mission is to help people succeed by having the freedom to be themselves. More than one million people have completed Kolbe assessments to better understand their conative strengths – natural instincts that govern action and achievement. Thousands of organizations use Kolbe Corp's assessments and consulting services to be more productive and to build effective and engaged teams.
Kolbe Corp's flagship online assessment, the Kolbe A™ Index, is the most powerful personal strengths assessment available, with proven reliability and validity.
The Kolbe A Index is available online at http://kolbe.com.