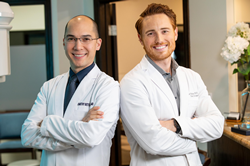 Dr. Baker and Dr. Betita's training and experience prepare them to be aware of medical conditions and modify treatments to decrease the risk of complications.
DANA POINT, Calif. (PRWEB) October 08, 2019
Dr. Eric Baker and Dr. Tim Betita of Niguel Coast Oral & Facial Surgery raise awareness of their advanced dental and medical training to offer medically compromised patients predictable and safe treatment. The Dana Point, CA oral surgeons welcome patients with heart conditions, diabetes, and other systemic concerns for dental implants and other oral surgeries to improve their overall health.
Patients considered medically compromised have underlying systemic diseases or conditions that increase their risk of complications during or after surgery. The most common medical conditions include hypertension, thyroid issues, diabetes, heart conditions, cancer, and immunodeficiencies, as well as patients who are pregnant. Dr. Baker and Dr. Betita's training and experience prepare them to not only be aware of these conditions, but to modify treatments before and during surgeries in order to decrease the risk of complications. During every consultation, this team considers if medications or procedures may be harmful to a patient, the physical stress of surgery, bleeding during and after the procedure, the patient's ability to heal, and necessary post-operative antibiotics to reduce infection risk.
Oral and maxillofacial surgeons like Dr. Baker and Dr. Betita are medical doctors as well as oral surgeons. Their advanced training includes rotations in hospital-based surgery centers, equipping them to skillfully handle complex surgical cases that many other dental specialists cannot. Medically compromised patients should seek specialized surgeons like those at Niguel Coast Oral & Facial Surgery if their medical conditions or systemic disease can potentially interfere with the success of their surgery. These oral surgeons specialize in dental surgical procedures, including jaw surgery, wisdom tooth extractions, and dental implants, which replace one or more missing teeth and permanently restore health and function to the smile.
Dr. Baker and Dr. Betita have the training and technology to provide safe and predictable surgery, including rehabilitation with dental implants, wisdom teeth extraction, and jaw surgery for patients who are medically compromised. They focus on improving the whole health of their patients through personalized, effective oral and facial surgery. "When we treat you as a patient, we're treating the whole body. We don't just treat the mouth; we treat oral and systemic health as well," said Dr. Betita. The oral surgeons are skilled in restoring the oral and overall health for patients. Plus, they can help patients who need better oral health to undergo systemic treatments, including heart valve replacement or joint replacement.
Medically compromised patients in need of oral or facial surgery, including dental implants and jaw surgery, can contact Dr. Baker and Dr. Betita by calling 949-240-2280. New patient appointments with the Dana Point, CA oral surgeons can also be made by visiting http://www.niguelcoastoralsurgery.com.
About the Practice
Dr. Eric Baker and Dr. Tim Betita are skilled oral surgeons treating patients in the Dana Point, CA area. Their team takes a comprehensive and minimally invasive approach to every treatment plan they offer. Specializing in effective, long-term clinical outcomes, they look beyond dental health and see complete health as the ultimate goal. Offering teeth-in-a-day dental implants solutions and some of only a few surgeons in the country to offer minimally invasive temporomandibular joint disorder treatment, TMJ arthroscopy, this team is redefining what it means to be an oral surgeon. To learn more about Dr. Baker, Dr. Betita, the services they offer or their modern office, visit http://www.niguelcoastoralsurgery.com or call 949-240-2280.