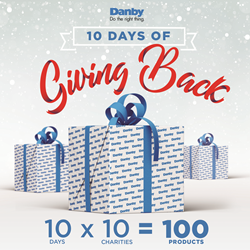 FOXBORO, Mass. (PRWEB) December 01, 2020
Danby Appliances, one of North America's leading manufacturers and distributors of compact appliances, is practicing what they preach and 'Doing the Right Thing' this holiday season. Instead of their usual monthly giveaway consisting of popular Danby appliances, Danby is giving back to those who need it most – local charities, foundations, shelters, etc.
Giving Tuesday, refers to the Tuesday after Thanksgiving in the United States. It is a global movement that calls out the power of people and organizations to transform their communities and the world by giving back.
Asking for the public's help, by using their social media platforms, Danby is asking their followers to mention a charity they think should win 1 of 10 prize packs, consisting of 10 product bundles each. The winners will be randomly selected and announced each day for 10 days, totaling a 100 prize packs donated. The prize packs include, but are not limited to, Danby mini fridges, microwaves, air purifiers, etc., products that would be exceptionally useful to charitable organizations. In order to encourage participation, as if giving back isn't enough, each time a person nominates a charity they are entered to win a grand prize consisting of multiple products, including some of Danby's most popular appliances. The contest is open to all residents of Canada, excluding Quebec, and the contiguous United States.
For more information visit the Giving Back campaign website here – https://bit.ly/Danby10DaysofGivingBack
MEDIA OPPORTUNITIES: To arrange an interview with Jim Estill, CEO of Danby, contact Cherie Bauman at CBauman@Danby.com. For media support, contact Victoria Freeman at VFreeman@Danby.com.
About Danby Appliances:
Founded in 1947, Danby is one of North America's leading manufacturers/distributors of compact appliances such as microwaves, dehumidifiers, refrigerators, freezers, and air conditioners. The company operates three distinct business units – Danby, MicroFridge, and Silhouette – with four North American offices, including three in the U.S. and one in Canada. For more information on Danby and its products, please visit http://www.Danby.com. Follow Danby on Facebook, Twitter, and Instagram.