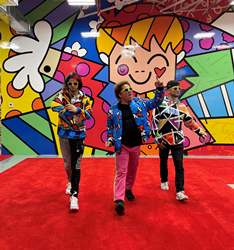 MIAMI (PRWEB) April 19, 2021
The global Happy Art Movement founded by Romero Britto, artist and patron of the arts himself, has the mission to share fun, love, hope, and happiness through dance, music, fashion, and visual arts.
As its newest supporters, Rampage The Dancer and Supah Mario visited the BRITTO® Palace in Miami representing "Iphlow", a group of 15 dancers that perform and compete all over the country.
The social media sensation Rampage The Dancer (@rampage_thedancer) with millions of followers plans to dance in various public places wearing outfits designed by Romero Britto with his iconic and colorful art representing The Happy Art Movement. True art performances blending music, fashion, visual arts and bold dance moves.