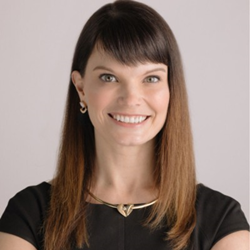 Our product organization is continuing to deliver on its mission to solve today's energy business challenges through meticulously thought out product roadmaps that ensure our software capabilities align with what the market truly needs
TULSA, Okla. (PRWEB) September 16, 2020
W Energy Software, the new leader in upstream and midstream oil & gas ERP solutions, announces the appointment of Danielle Villegas as its new Vice President of Product. Danielle joins the company with over 15 years of energy software development and product management experience. She will be responsible for leading W Energy Software's product development teams across all practice areas and product lines. This announcement follows on the heels of recent news that W Energy Software is experiencing accelerated growth across upstream and midstream markets and is expanding its broad product footprint with a next generation measurement product line, underscoring the need to adapt organizationally as the velocity of growth continues to increase.
"I would like to welcome Danielle Villegas to the W Energy Software family, who joins the executive team as our new VP of Product where her extensive experience will be invaluable in sustaining our high level of innovation," said Pete Waldroop, CEO of W Energy Software. "Danielle joins us at an exciting time of surging demand across upstream and midstream coupled with expanding product lines, growth that is accelerating and why W Energy Software is aligning our organization with top leadership to ensure that we sustain our market leading technology position now and into the future," he said.
Danielle Villegas brings over 15 years of energy software development, systems development, and product management experience to W Energy Software where she is responsible for spearheading product strategy and leading the product organization whose mission is to continuously understand market requirements and align them with the company's expanding line of products. Before joining the W Energy Software management team, Danielle served as Senior Director of Product Operations at Allegro Development, a commodity trading and risk management software company, where she held various other roles in product management, product marketing and consulting during her tenure. Prior to Allegro, Danielle was an IT advisor for KPMG.
"I am honored to lead such an amazing team who has already generated tremendous momentum in the market with an impressive spectrum of cloud-based ERP software, from field data capture and production operations through gathering, transportation, processing, and marketing," said Danielle Villegas, W Energy Software's new Vice President of Product. She added, "combined with W Energy Software's focus in new areas, including development of a next generation measurement solution, our product organization is continuing to deliver on its mission to solve today's energy business challenges through meticulously thought out product roadmaps that ensure our software capabilities align with what the market truly needs."
About W Energy Software
Headquartered in Tulsa, Oklahoma, W Energy Software offers the oil & gas industry's only unified ERP solution built for the cloud that is relied on by more than 100 upstream and midstream companies to accelerate business performance, improve operational efficiency, and drive costs down. W Energy Software combines precision-built software in one extendable cloud-based workspace with an intimate understanding of the oil & gas business to deliver solutions that offer flexibility, affordability, and continuous upgrades. Unlike other ERP software that loosely ties together a mix of legacy solutions and fragmented technologies, W Energy Software designed a unified upstream and midstream ERP platform to seamlessly track oil, gas, and NGLs from the wellhead through transportation and marketing, eliminating data silos as well as the burden and costs of maintaining multiple systems. With W Energy Software, oil & gas companies stay lean and agile with the tools they need to adapt to market changes and meet evolving customer needs head on, all while gaining the confidence that their business is running on the latest technology. For more information, please visit https://WEnergySoftware.com.